Amy Coney Barrett is Under Unjust Partisan Assault...
Confirm: Judge Amy Coney Barrett!
With the passing of Justice Ruth Bader Ginsburg, President Donald Trump nominated Judge Amy Coney Barrett to fill the vacancy at the U.S. Supreme Court.
Who is Judge Amy Coney Barrett?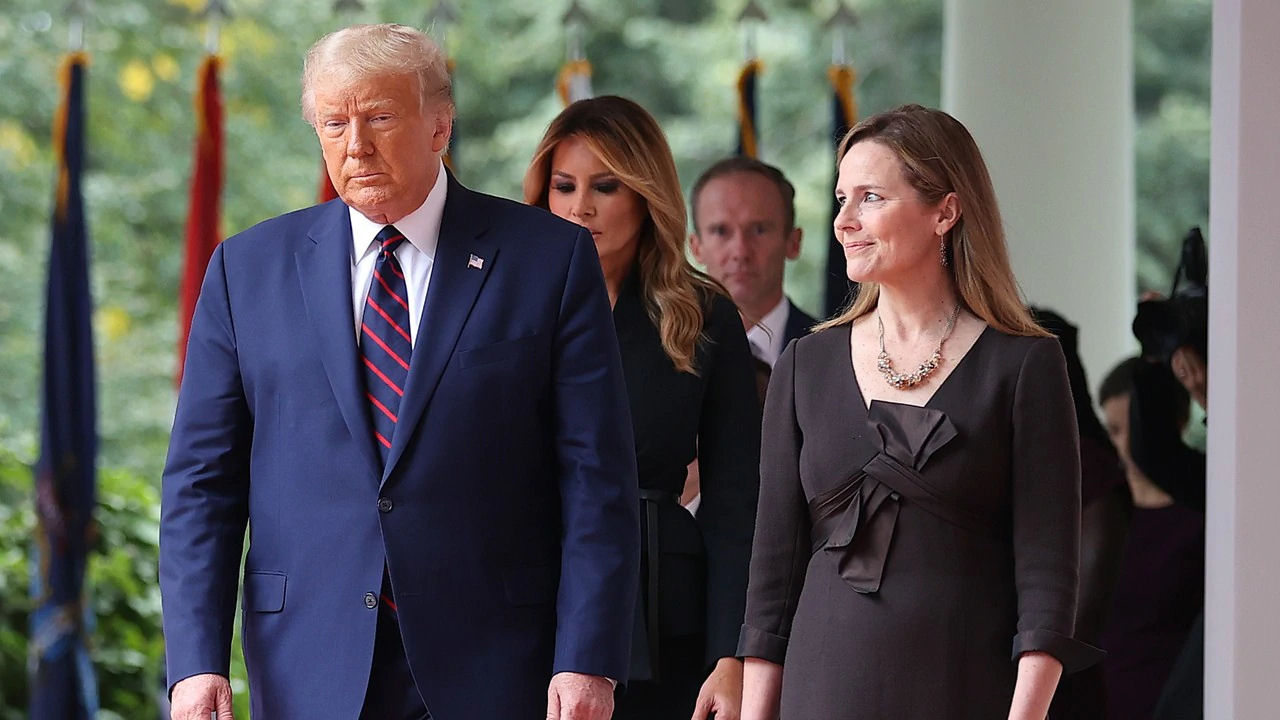 Judge Barrett has served as a clerk for the late Supreme Court Justice Antonin Scalia on the Supreme Court and Judge Laurence Silberman on the D.C Circuit after graduating first in her class from Notre Dame Law School. In 2017, Barrett was confirmed by the U.S Senate in a 55-54 bipartisan vote to serve as a federal judge on the Seventh Circuit Court of Appeals where she has participated in more than 500 cases, consistently applying a conservative perspective to matters concerning abortion, infringements on free speech and freedom of religion.
In addition, she received three times the prestigious award of "Most Distinguished Professor of the Year" at Notre Dame Law School. During her previous confirmation to the Seventh Circuit Court of Appeals, Judge Barrett received the support of ALL 49 of her Notre Dame Law colleagues, even from those with radically different legal viewpoints. More than 450 former students wrote a letter endorsing her previous nomination.
Her qualifications for the U.S. Supreme Court are so evident that even political opponents stated:
I disagree with much of her (Judge Barrett's) judicial philosophy ... Yet despite this disagreement, I know her to be a brilliant and conscientious lawyer who will analyze and decide cases in good faith, applying the jurisprudential principles to which she is committed. Those are the basic criteria for being a good justice. Barrett meets and exceeds them...

Of the thirty-some clerks that year [1998-99 term], all of whom had graduated at the top of their law school classes and done prestigious appellate clerkships before coming to work at the court, Barrett stood out. Measured subjectively and unscientifically by pure legal acumen, she was one of the two strongest lawyers (the other is currently Dean at Stanford Law).
Despite her qualifications, radicals will stop at nothing to attack her:
Before the late Saturday nomination of Judge Barrett entered the work week, radical attack dogs were already trying to rip her to shreds. Her family opened their home to adopt two children from Haiti many years ago. Radicals quickly twisted that kindness and used that to accuse her of being racist, of neglecting her children, and shockingly even suggested human trafficking?!?
What is deeply concerning is how some legislators and the fake "news" are attacking Judge Barrett for her faith. Their message on Capitol Hill is clear: people of faith are unfit to serve our nation. They are claiming that this happily married wife, incredible mother, excellent professor, outstanding jurist, and a phenomenal Seventh Circuit Court Judge is somehow unqualified because of her Christian faith.
Radicals will twist the truth to block the confirmation of Judge Barrett.

You Can Help!
Will we rise to this opportunity to change the highest court in our nation, or will our leaders shrink from the heated conflict as they move forward? Make your voice heard right now up and down the halls of the Senate to support Judge Barrett:
We strongly discourage using any hateful language or wording that could be seen as a threat. That is not the most effective way to change minds.
ADDITIONAL INFORMATION
Judge Amy Coney Barrett Confirmed to Supreme Court

Judge Barrett's Nomination Advances to Full Senate

Judge Amy Barrett's opening statement to the Senate Judiciary Committee

Banning a Person of Faith from the High Court
Amy Coney Barrett Already Under Attack
One Seat on the Court Will Change Our Future
The Supreme Court – An Epic Battle