Thank you for partnering with Liberty Counsel Action!
We want to share some of the many victories and activities that have been made possible by your support. This list is a partial summary.
Sanctity of Life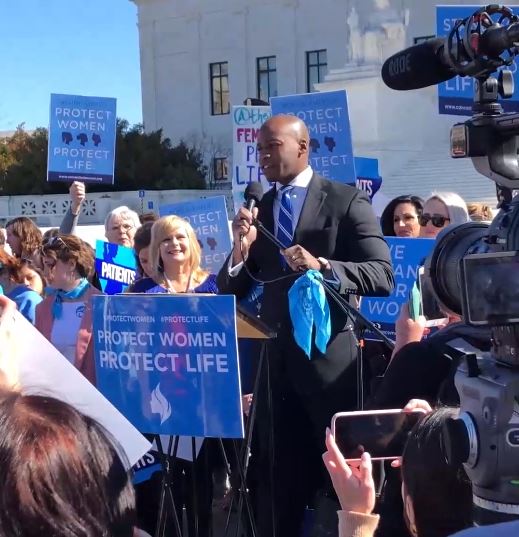 We fought to end the killing and harvesting of organs from newborns who survive abortion. By tirelessly advocating for this in the House, Senate, and social media, we changed people's minds. We saw legislators get involved to carry our message directly to the President, who signed an Executive Order, successfully outlawing this barbaric practice!

Through meetings with the pro-life caucus, we discovered a hidden flow of your tax dollars being used to pay for abortions through contracts and grants to subcontractors. Your faxes strengthened our meetings until this funding was cut off and safeguards were established.

During Justice Amy Coney Barrett's confirmation process, our team coordinated with more than a dozen ministries. We shared our centralized office as a headquarters for other pro-life ministries, organized supporters, and helped facilitate joint prayer efforts. Thus, your donations helped strengthen the impact of other ministries as well.
Religious Freedom
Together we fought Big Tech censorship at the Federal Communications Commission, through faxes and meetings. Regarding this matter, an independent media source named LCA as one of the top ten most influential organizations in D.C.

Democrats tried to slip the "Equality Act" through the U.S. Senate with a surprise voice vote. Our group was one of the first to raise the alarm and our supporters instantly mobilized and raised an outcry against the greatest attack on religious freedom we have ever seen America. Because of your instant grassroots response, we were able to stop this horrific legislation.

Our team has been assisting and supporting those who are representing thousands of churches that have been silenced and blocked from meeting throughout a time when our nation needed hope the most.
Personal Freedom
We worked with doctors who had the most successful treatments for COVID-19. We helped spread information about treatment options to people in restricted states and connected millions of people to resources for getting these latest treatments delivered to their door.

We researched and debunked many of the anti-hydroxychloroquine studies where patients were overdosed or mis-categorized to hide the truth about this highly successful treatment.

We responded to a request from one of the offices in the White House asking for more information about aborted fetal tissue cell lines included in many of the COVID-19 vaccines.

Many people have been flooding our governors' offices with faxes urging them to protect religious freedom exemptions from vaccines. One of our targets was the governor of Virginia. We believe because of this proactive messaging, the governor reversed a statewide plan for a mandatory COVID-19 vaccine for every man, woman, and child.

We fought to reopen the economy so that people could make the best choices for themselves.
Second Amendment
National Security
Our team saw firsthand election fraud and illegal behavior. We worked around the clock to prevent and investigate this fraud and fought to restore integrity in our election system.

We championed measures necessary to secure our nation's borders and supported Mexico securing their southern border, which led to a massive drop in illegal immigrants.

We supported a tough policy on China which pushed for increases in religious freedom and human rights for the Chinese people.
Leading Internationally
Celebrated the signing of the Abraham Accords at the White House, which is a Middle East path to peace.

Supported Israelis having the freedom to settle and build homes in the Golan Heights.

Joined the United States Agency for Global Media Board to help expand freedom of speech.

Provided legal and political advice to lead a group of Caribbean countries battling against same sex "marriage," abortion, and underage prostitution laws.

Counseled a group of more than 10,000 churches in Haiti concerning repealing an unconstitutional same-sex "marriage" law.
Court Nominations
Supported the nominations of another conservative U.S. Supreme Court Justice, shifting the power on the High Court, and more than 225 additional judges across the nation.
Advocacy
Met and spoke with the President at a White House event. Accepted an invitation from the Vice President to discuss religious liberty, law and order, and race relations over a luncheon.

Provided counsel and advocacy for churches, organizations, and individuals experiencing censorship on Facebook. Developed relationships to find resolutions against Facebook censors.

Counseled an African American group who was arrested for chalking "black pre-born lives matter" in front of a Planned Parenthood.

Addressed students at Liberty University School of Law, Arizona Christian University, Camp Constitution retreat, and the Maryland Baptist Association.

Appeared as guests on dozens of national television and radio broadcasts.

Contacted elected officials with more than 150,000 faxes and delivered numerous petitions.
And there are many additional efforts and victories! Every single battle we fought this year, was only possible because of the friends and supporters of Liberty Counsel Action. We completely rely on your donations to fight and win in each battle for our values and freedom.
I am convinced that the battle for the soul of our nation will be even more intense next year. I urge you to stand with Liberty Counsel Action through our Challenge Grant to empower our team to continue fighting for you and for our freedom on Capitol Hill!
Give now to partner with our ministry and continue fighting for our nation's future!