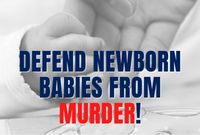 Defend Newborn Babies from Murder! (Petition & Fax Campaign)
The bodies of 115 children in Washington, D.C., were rescued from an incinerator by a sidewalk counselor. Five of those children appear to have been born alive in an abortion clinic in Washington before being brutally murdered. Right now, there is a bill in Congress to stop these brutal practices. HR 619 already has 204 legislative sponsors and its partner bill in the Senate, S 123, has 46. We only need a few more votes to pass these bills and protect helpless newborn babies. Stand with us and fight to change the minds of just a few more U.S. legislators.
From our kids to our soldiers, "Critical Race Theory" (CRT) is being forced down Americans' throats. CRT is rooted in Marxist class warfare. It divides people by skin color, claims America was founded on racism and advocates the overthrow of virtually every legal construct in the nation, including the Constitution. A bill was introduced in Congress to block federal funds from going to any group that pushes this racist theory. It is urgently important to demand that state and federal leaders stop CRT in our schools and the military. Make your voice heard today through your faxes to demand an end to tax-funded "CRT education."