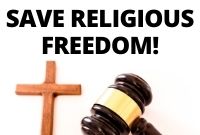 URGENT" The "Equality Act" Is Back! (Petition & Fax Campaign)

Congress just introduced a bill misnamed the "Equality Act" that will unleash the most radical, anti-religious discrimination America has yet faced. It attacks religious freedom, free speech, privacy, and women's rights—all in one bill! The impact of it will be widespread—affecting churches; religious colleges and universities; public, private, and Christian schools; curriculum; religious and private organizations; employers; employees; individuals; foster care and adoption; shelters; local, state, and federal entities; privacy; women's rights; and much more!
Send your urgent fax to demand Congress block this attack on our religious freedom.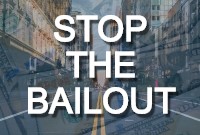 Not A Penny More...

Stop the Bailout! (Petition & Fax Campaign)

Some states are pushing for a MASSIVE federal bailout from taxpayers. They want YOU to cushion them from the financial pain they caused by their unconstitutional and ineffective lockdown on businesses and people across their cities and states.