U.S. Senate Majority Leader Chuck Schumer has created a scheduled vote on a substitute number for HR 1 (now S 2093) as early as tomorrow—the election fraud bill. This vote could push a toxic bill onto the Senate floor, and now Sen. Joe Manchin is signaling that his original opposition to this bill is wavering. Democrats are putting incredible pressure on Manchin.
There is a huge battle brewing in Arizona's Maricopa County. I'll explain below, however if S 1 passes, every one of these hard-fought victories in states across America will be erased. Georgia, Florida and many other states are pushing election reform laws, but if passed, S 1 will override them all.
Even if you have already faxed before, I am reminded of the scriptural principle of the unrighteous judge who finally gave in to the widows' persistent demands for justice. This holds many parallels to America's current political climate.
We must flood key senators with faxes to demand they fight HR 1 that legalizes election fraud! Make your voice heard in the Senate today by clicking here or the button below. —Mat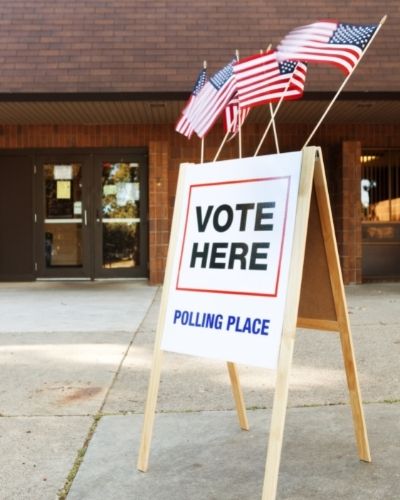 The Arizona Attorney General Mark Brnovich is going head-to-head fighting for election integrity against his federal counterpart. He issued a scathing letter in response to several attempts by federal government agents to stop the audit in his state.
"Your statements displayed an alarming disdain for state sovereignty as defined under the 10th Amendment of the United States Constitution. … It is important to remember that the states created the federal government, not the other way around. … Today, our federal government has largely forgotten the Founders' intent, but my office has not. ... This letter appeared more interested in supporting the hysterical outcries of leftist pundits on cable television rather than the rule of law."
He concludes, "Arizona will not sit back and let the Biden administration abuse its authority, refuse to uphold laws, or attempt to commandeer our state's sovereignty."
S 2093 is essentially the same as HR 1, which automatically registers every person to vote; prevents voter ID requirements; mass-mails ballots to everyone; presumes all mail-in ballots are valid; permits same-day registration; allows voting in any precinct; threatens five years in prison and 100,000 dollars in fines to any election official who questions the legitimacy of a ballot; and much more.
The best way you can help the audit in Arizona is to fight S 1 with everything you can in the U.S. Senate right now. Send your urgent fax to every single senator you can and demand that S 1 be stopped.
Meanwhile, Florida joined Georgia and passed a comprehensive, excellent election reform bill. And Texas now has its own election reform law.
The state legislators that were on the front lines of investigating election fraud are highly motivated to fix this process. And Democrats in D.C. are just as motivated to completely erase the state legislators' progress.
U.S. Rep. Claudia Tenney (R-NY) knows firsthand the dangers of this bill. She said, "H.R. 1 is a recipe for disaster. I would know, having prevailed recently in the race for New York's 22nd District after an exhaustive count that went on for nearly 100 days. In the run-up to the 2020 election, New York Gov. Andrew Cuomo rushed through a series of executive orders that mirrored some of the exact policies now proposed in H.R. 1. The result in the 22nd District was one of the most poorly run elections in the country."
It is absolutely critical to stop this bill. This is the greatest attack on our republic and our right to self-governance. Send your urgent fax to the Senate to stop fraud from becoming permanent.
"H.R. 1 is nothing short of a hostile takeover by Democrats to federalize our state and local elections," wrote Kyle Hupfer, general counsel for the Republican National Committee. "All Americans should be alarmed by this power grab."
Elections matter. Politicians pass laws. Presidents appoint judges and Justices to the Supreme Court. We defend religious freedom, the sanctity of human life and the family. Everything we hold dear is at stake.
By a single vote of one Supreme Court Justice, Amy Coney Barrett, we have been able to win religious freedom for tens of thousands of churches. Without Barrett on the Supreme Court, churches all across the nation would be still closed, locked down and under attack by anti-God governors. We need good people in office and on the bench.
But if you take our votes—or overpower them with fraud—then our God-given liberties are no longer protected within our system of government, and the freedoms we enjoy today are erased.
We need to flood their desks with faxes to oppose this bill now! Click here or the button below to send your critical fax directly to key senators.

Take courage. Right now, many states are drawing a red line against election fraud and federal overreach. Some states have blocked vaccine passports, others have become Second Amendment sanctuary states, some are saying no boys in girls' sports.
LC Action's team is working with legislators and providing governors the tools they need to fight back. And we can only do this because of your support and your prayers for our organization! Together, we are having a real impact. Give today to become a part of our Challenge Grant and DOUBLE the impact of your donation.

Fighting for freedom,
Mat Staver, Chairman
Liberty Counsel Action


P.S. This is the same bill, new number. There is no time to waste to defeat it. Send a fax directly to every senator you can to urge them to stop this bill. Then select here to equip our staff to fight this battle for a free and fair election. Finally, sign our petition against this legislation. God's blessings on you.



---
Sources:
DeBonis, M. (2021, May 5). Democrats tweak marquee voting bill as they seek path out of Senate. Washington Post.
Helderman, R. (2021, May 6). Arizona Republicans push back against Justice Department concerns, setting up possible clash over Maricopa County recount. The Hill.
Lea, B. D. (2021, Apr 21). RNC assails Democrats' HR 1 as a 'hostile takeover' of the election process. Fox News Channel.
Stieber, Z. (2021, May 6). Maricopa County Refuses to Provide Routers to Election Auditors. The Epoch Times.
U.S. Senate Rules and Administration Schedule. (Accessed: 2021, May 7). Agenda: S. 1, For the People Act. Business meeting Tuesday, May 11, 2021 at 10:00 AM.
Washington Post. (Updated: 2021, May 6). Justice Department letter on Arizona audit by Pamela S. Karlan, Principal Deputy Assistant Attorney General, Civil Rights Division.