Liberty Counsel Action has developed relationships inside the White House, the Health and Human Services Deartment, and with key legislators. These relationships have led to conversations that have contributed to incredible victories for the pro-life movement this year!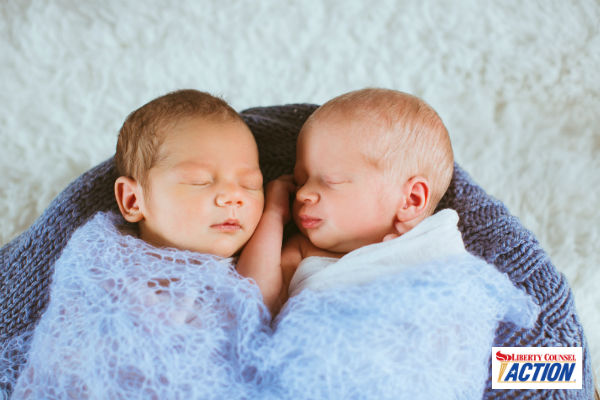 Here is just a partial list of victories that Liberty Counsel Action lobbied for this year regarding the sanctity of life:
More than 80 constitutionalist judges were confirmed

States can defund abortion providers

Medical personnel have religious and moral exemptions from performing abortions or other actions opposed to their faith.

Churches, companies, and affiliated hospitals have the freedom to not provide abortion, assisted suicide, transgender surgeries, etc.

State governments can't discriminate against individuals or organizations that do not provide or refer for abortions

Abortion insurance must be collected separately from taxpayer-funded insurance premiums.

Family planning funding is separated from groups that refer to, or provide, abortion services. Groups have less than one year left to separate their facilities from abortion clinic locations.

The continuation of the Hyde Amendment and the Mexico City Policy, which end taxpayer funding of abortion. And defunding the U.N. Population Fund that pushes abortions worldwide.
Now for the bad news.

This week 20 pro-life legislators are packing their offices and handing their keys to pro-abortion legislators. In addition, 13 legislators with a mixed record on life are being replaced by pro-abortion legislators. Combined, these 33 new pro-abortion legislators are countered by only three pro-life legislators in seats previously held by pro-abortion legislators. (There are five legislators whose stance on protecting life is unknown.)

This will make the battle so much more intense.

I need your help to fight for life in the minds and hearts of those walking the halls of our Capitol. Liberty Counsel Action needs your support. I do believe the effectiveness of these three new legislators and our nation's protection of innocent life is in your hands. Right now donate to advance an agenda of life this next year.

Mat Staver
Chairman, Liberty Counsel Action

P.S. God has called each of us to an important role in our nation. For some of us that is showing up daily in Washington D.C. for others it is by lifting us up in prayer, signing our petitions, and financially supporting this mission. It is literally impossible to carry out this critical mission without you. We are facing an increasingly pro-abortion Congress. Now, Washington D.C. needs a chorus of voices protecting innocent life in 2019. Will you join in?
Liberty Counsel Action is a 501(c)(4) nonprofit, grassroots organization advancing religious freedom, the sanctity of human life, the family, limited and responsible government, national security, and support for Israel. Donations are not tax deductible.