Rep. Jerry Nadler stood up and made shocking claims that there is no dispute over the facts of his case for impeachment.
That's bogus. The two articles of impeachment are not authorized by the Constitution, and the alleged "facts" referred to by Nadler are highly disputed.
Nadler had the nerve to tell sitting U.S. Senators that a vote against his partisan project would be "a treacherous vote."
Really? It is time to stand up to this partisan politics that is hurting the country. Send an urgent message to Senators to stand strong against impeachment right now. All faxes are recorded as official documents, and fax machines cannot be turned off. So, this is a powerful and lasting way to make your voice heard inside these legislators' offices. - Mat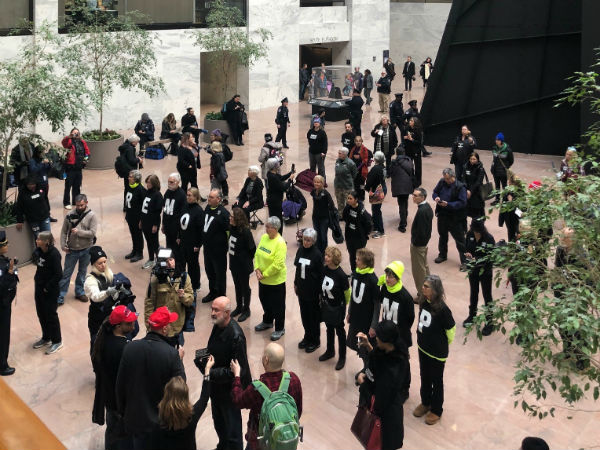 Rep. Nadler admits, "Our election is at stake."
He is right.
The Democratic House leaders are doing everything in their power to attack our nation and destroy our election results. They are even saying any senator who does not side with them would be "a treacherous vote."
This week, President Trump's lawyers released a detailed legal memo on the Articles of Impeachment saying everyone with a "basic respect for the sovereign will of the American people" should "shudder" at what is happening in D.C. right now.
In fact, 21 state attorneys general have submitted a brief to the Senate against impeachment. They stated, "the theories animating both Articles will set a precedent that is entirely contrary to the Framers' design and ruinous to the most important governmental structure protections contained in our Constitution: the separation of powers."
The Democrats have not found a single law that President Trump disobeyed in their endless investigations into our president for years! They are basically just impeaching him because they don't like him. And this is a VERY dangerous precedent to set for our nation's future.
"[A]ll that House Democrats have succeeded in proving is that the President did absolutely nothing wrong," the brief said.
In fact, it's likely that the very people who are crying foul were the ones that set up Trump.
This is a witch hunt against the President. Will you sign our petition supporting and encouraging President Trump right now?

We are on the ground in DC. Now is the time to push these legislators to investigate and ask the tough questions when the question period begins, and to stand up for the Constitution. LCA is working hard to get the real news to you and give you options to impact the future of our nation. That's why we bring you fresh, explosive details and a way to make your voice heard clearly on Capitol Hill.
We are 100 percent dependent on the support of friends like you to continue to impact these pivotal moments in our nation.
Would you pray about becoming a monthly donor of 25, 50, or 100 dollars? Even a one-time donation of any amount you can send today helps us counter these radical lies against President Trump.
Thank you for your concern for the truth and justice in America today. If you haven't already, sign our petition to have your name given to our President with a note of encouragement in the face of these attacks against him.
Onward,


Mat Staver, Chairman
Liberty Counsel Action
P.S. Take a moment today to demand that the Senate hold a fair investigation into Ukraine. I hope you will send an urgent fax demanding our legislators stand firm against this radical attack against President Trump.
If you are able to donate, your support allows us to continue fighting for truth and justice on Capitol Hill. Help Liberty Counsel Action spread the word and gather more signatures by sending this email to your friends.