Just hours before President Trump's powerful State of the Union, we sent him pages and pages of signatures from patriots encouraging him. Sometimes our leaders need a boost of encouragement and encouragement is exactly what you were able to give through LCA's petition efforts!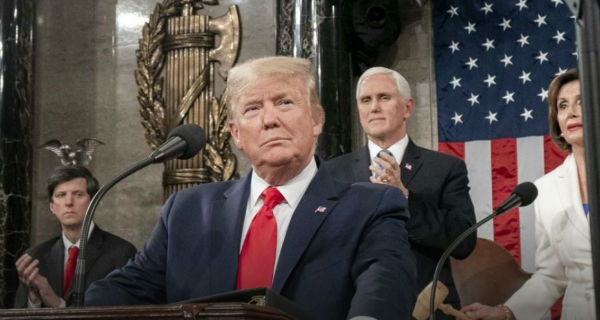 Last night Trump was incredible as he discussed the issues that are weighing on the minds of Americans, such as protecting precious children, religious liberty, educational choice, employment, and the safety of our soldiers. I believe that together, so many of you contributed to making last night incredibly powerful.
Now, there is someone else who needs strengthening. It is the pastors standing in churches across America who think they cannot speak freely about the clear crossroads our nation faces in November.
Recognizing this problem, we created the Silence Is Not An Option packet. It's a video and booklet that gives pastors and other clergy the freedom to speak up. I personally explain what the law says and give historic examples of what actions pastors, churches, and non-profits can take in this upcoming election. (And it is much more freeing than most pastors realize.)

A nationally known pastor called me to say, "After watching the video I felt like a prisoner set free. Everyone tells me what I can't do, but you told me what I CAN do."
Liberty Counsel Action has identified thousands of key churches that must be reached with these vital resources. Amazingly, for just $10 we can put our Silence Is Not An Option resource pack directly into the hands of a key battleground pastor and church.
Please note that TIME IS SHORT! We must reach these churches well before Election Day to counteract the flood of misinformation being sent to them from the ACLU and others. Specifically, I need the resources to reach 20,000 top-tier churches before the end of this month to meet our goals.
Christian and conservative speech is being targeted and silenced more than ever. Organizations like the ACLU and others are pouring tens and hundreds of millions of dollars into the 2020 election. It is their goal to suppress the voices of people of faith.
That's where you come in!
Can I count on your help to sponsor TWO, THREE, FIVE, TEN or more key battleground churches?

When you join in this effort, you are partnering with Liberty Counsel Action and concerned Christians across the country who want to ensure that the voices of people of faith are not silenced in this critical election!
Please prayerfully consider becoming a monthly partner of LCA to enable us to proactively lead on this and many other critical battlefronts—or consider giving a one-time donation that helps defray the expense of this campaign. These would be life-giving acts to strengthen and support our organization.
Thank you in advance, and may God bless our nation.


Mat Staver, Chairman
Liberty Counsel Action
P.S. The ACLU and others are funneling TENS OF MILLIONS of dollars into 2020 election efforts that will have the effect of muzzling Christians. That's why I must reach thousands of pastors and churches in battleground states. Help me get SILENCE IS NOT AN OPTION into the hands of thousands of pastors.
Your donation to LCA helps us research and create these opportunities for passionate Americans to change the future path of our nation. Then help us spread the word about this powerful opportunity by sending this email to your friends.