The battle is fierce today! Liberty Counsel Action staff are in D.C. fighting on multiple fronts to protect innocent life. We will be meeting with wonderful people from the legislature and the courts, ALL ON THE SAME DAY! – Mat
Support Liberty Counsel Action's efforts today!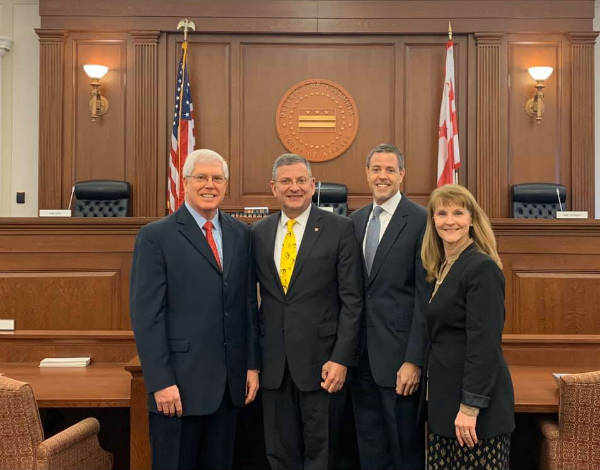 We ask for your prayers for our staff, that God will go before us to open doors that no person can shut.
I just finished standing in court in Washington D.C. to plead the case of a pro-life client Larry Cirignano. He is a sidewalk advocate that peacefully stands outside of an abortion center in D.C. What is unique about this "clinic" is that it is sandwiched between an elementary and middle school charter school. When my client stood on the public sidewalk just one time and used his first amendment freedoms to advocate for life, he faced a crushing lawsuit (even though he never trespassed onto private property).
Surprisingly, this lawsuit did not come from the abortion clinic but rather from the CHARTER SCHOOL next-door that is trying to silence my client! He never broke the law, but that doesn't matter to the Two Rivers Public Charter School. Over the years, I have defended many people just like Larry for free. He is one of the many pro-life heroes who stepped out in faith and God brought into my life.
But it is people like Larry who will take the brunt of the violence that is being stirred up by Sen. Chuck Schumer's threats against the U.S. Supreme Court Justices regarding an active case concerning medical protections for women in Louisiana.
Sidewalk counselors over the years have faced serious jail time and threats. In fact, an abortionist even pointed a loaded gun at people praying outside his clinic and threatened them with it. Once convicted, the abortionist only faced a $100 fine.
But now pro-death activists have been stirred up and emboldened by the words of Sen. Schumer. So, I am asking you to stand in the gap. Many of these advocates are young, even high school and college students who are facing increasingly violent threats just for speaking out. Send an urgent fax right now to show the Senate that you are done with the threats and violence against innocent life and those who stand up to protect it.

We are coming together as a team to deepen powerful relationships and to test new strategies for success. We will be meeting directly with legislators and their staff. Together, we can turn the tide and reclaim some decency within our government leadership to decrease violence against the pro-life community. Any donation you give above the cost to send a fax is a direct donation that supports our organization.
If you can't send a fax today, you can still be involved. I ask you to take two quick actions. 1) Make sure you have already signed our free petition, and 2) call Senator James Lankford and ask him to "immediately schedule Senate Resolution 532" by dialing: 202-224-5754.
Thanks for your help and your involvement! You support is what keeps our organization constantly moving forward.
Blessings,


Mat Staver, Chairman
Liberty Counsel Action
P.S. I urge you to send an urgent fax directly to our senators demanding that Sen. Chuck Schumer's threatening words outside the U.S. Supreme Court be censured immediately. Then sign our petition to hand-picked senators on this motion. Your donations to LCA help us keep you alerted and empowered to hold these radicals accountable.
Finally, please spread this message to other patriots who want to make their voices heard as well, by forwarding this email. God bless you!