We brought extra staff to Capitol Hill this week to deepen our ability to work for YOU. And we had some incredible moments! - Mat

Liberty Counsel Action is at the center of extraordinary and challenging battles. And we are on the cutting edge of many of the most momentous political struggles in America's history.
Our staff starts each day with joint prayer. But this habit takes on special meaning when you are praying and reading about justice in the Bible with the U.S. Supreme Court in the background.
One of the windows we can see of the courthouse is where the U.S. Justices sit on Fridays to privately discuss and decide the cases they heard that week. And clearly visible from their window is the Ten Commandments monument sitting in front of our new ministry center building. This monument continues to be a witness on Capitol Hill to visitors who pass by and to the Justices themselves.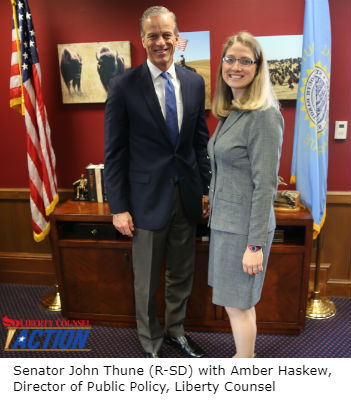 We personally met with U.S. Senate Whip John Thune (R-SD) and thanked him for his efforts to push the Born-Alive Act in the Senate and discussed with his staff concerns over new legislation with elements of the anti-religious "Equality Act." Then on our way to our next meeting, we bumped into Sen. Ben Sasse (R-NE) who is the sponsor of the Born-Alive Act. We were able to thank him in person for his articulate, compelling testimony and tireless efforts to defend children.
These interactions are powerful as we encourage and educate your legislative leaders to keep up the good fight; to continue to push good laws forward and stop bad ones. We can only have these conversations with these champions in the Senate because of your support for this ministry on Capitol Hill.
Donate to keep these messages going on Capitol Hill.
Major players in D.C are gearing up for a budget battle. Already you can see hints of this as Speaker of the House Nancy Pelosi introduced a funding bill yesterday for coronavirus that was filled with earmarks for your tax dollars to fund abortion and reward LGBT relationships and conduct.


We were able to discuss this in some of our meetings yesterday, and Rep. Pelosi's first bill was pulled back. But this funding battle is heating up today, and our constant presence on Capitol Hill helps impact these large and small battles on a daily basis.
We also spent time on the U.S. House side meeting with Rep. Ben Cline and the staff of Rep. Matt Gaetz. And we had additional meetings to brainstorm new ways for our organization to increase our impact.
This is the heart of our staff—to do everything that we can to fight effectively for innocent life, natural healthy relationships, and religious freedom in our nation. And when you give to our organization you help turn this vision into a reality.
The exciting news is that we got the chance to speak with staff leading pro-life efforts on both the House and the Senate side. These are the movers and shakers of the pro-life community. Those conversations were dynamic interactions where ideas were shared, and solutions were created.
While we are not ready to go public with everything, I assure you we are going on the offense regarding protecting innocent life, ending government funding for groups that push abortions, and discussing questions on the ethics of research using human fetal organs.
And we can only do that with your support, your donations, and your involvement. We are representing you on Capitol Hill in these intense challenges. And we are sharing in the key victories, such as the number of pro-life judges confirmed by the U.S. Senate, who have the ability to affect significant change across America.
Will you help us continue this impact with a donation today?
Thank you for helping us be your voice on Capitol Hill to speak truth and encourage those in leadership in America.
Sincerely,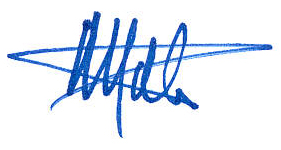 Mat Staver, Chairman
Liberty Counsel Action

P.S. This week was packed with back-to-back meetings in the Capitol and legislative office buildings where we were able to raise concerns about bad bills, educate on the need for good legislation, and partner with the efforts of legislative staff.
Please pray for God's guidance on how you can be involved, including your financial support of our organization. Again, if you have any questions about how you can help us with this opportunity, please let us know. God bless you!