Dr. Anthony Fauci announced yesterday that the COVID-19 vaccine's "warp-speed" push through trials could come even faster if the vaccines look positive. Already, two-year trials were shortened to six months. Then four months. And now trials have the potential to be even shorter and a vaccine could be approved as early as October. It usually takes five or more years to deploy a vaccine due to the complicated but necessary testing routines.
It is deeply concerning that these trials will provide zero data on potential long-term complications from the injections, many which contain aborted fetal cell lines. However, bureaucrats are already talking about making these injections mandatory the moment it has undergone a tiny fraction of the required testing and passed approval.
But the billion-dollar question is, who gets to decide if the vaccine is ready? The answer below will shock and concern you. But first I want to ask you to make your voice heard in the offices of governors and legislators to urge them to stand against mandatory vaccines. Send your fax directly to their offices today. -Mat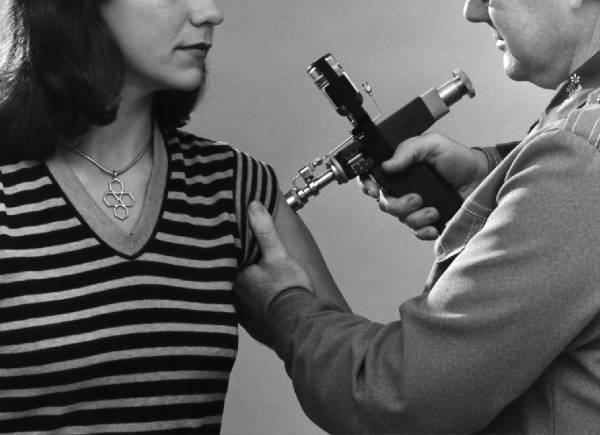 "This historic photograph shows an adult female receiving a vaccination that was mandated during the nationwide Swine Flu vaccination campaign, which began October 1, 1976."
Dr. Fauci said he is "not concerned about political pressure" influencing the vaccine trials. However, this is either ignorant or willfully blind. In addition to political pressure, these massive pharmaceutical corporations have a lot riding on this approval.
The CDC has approved the cost of some vaccines at more than 200 dollars each. If we estimate 45 dollars per injection for a COVID-19 vaccine that requires two injections, worldwide, pharmaceutical corporations stand to make an estimated 689,036,163,210 dollars. That's billions, by the way. In addition, most people—including Dr. Fauci—think that the injection would only protect for 3-12 months. If these numbers held true, that total would become an annual income.
In July, pharmaceutical maker AstraZeneca (whose vaccine includes aborted fetal cell lines) testified before Congress that they would make sure a board approves the vaccines. "Dr. Fauci trusts the independent members of the Data and Safety Monitoring Board to hold vaccine candidates to high standards," reported USA Today.
I don't trust any corporation that stands to make hundreds of billions of dollars with no legal liability.
Especially when these boards appear to have an unknown number of unnamed members with undisclosed financial interests, and who might even be paid directly by the pharmaceutical corporation itself for their participation in approving the study.
Now is the time to fight to make sure these vaccines never become mandatory. Make your voice heard by the governors and legislators who have the authority to keep vaccines voluntary. In addition to the fax, please sign the petition below as we will also deliver this to the White House.

The reason that vaccines go through rigorous, long-term testing is illustrated by the Guillain-Barre syndrome. In 1976, a vaccine was rushed through and then made mandatory on the recommendations of scientists predicting a swine flu that never happened.
"Unfortunately, due to that vaccine, and the fact that it was done so hastily, there were a few hundred cases of Guillain-Barre," Michael Kinch, a professor of radiation oncology in the school of medicine at Washington University in St. Louis, told CNN.
History could repeat itself. The facts are, we have zero information as to what the complications of the COVID-19 vaccine might be five months, or five years down the road. This injection should be a personal, voluntary decision for each individual to weigh—never one that is mandated and enforced by the heavy hand of government officials.
Make your voice heard so that our current politicians don't make this mandatory vaccine mistake again! Send your fax today to these decision makers.

Already, President Trump's administration is demanding that a U.S. military distribution plan, with coolers ready for the vaccine, be set up around the nation no later than November 1, so this vaccine can be pushed across the U.S. as soon as it is ready. In addition, Chicago has already bought needles and syringes and placed them in locations across the city in order to give these vaccines.
Right now, before these vaccines are approved, we must demand protections for your freedom of medical choice.

It is my commitment to you that Liberty Counsel Action will continue to stand with you and fight for our liberties here in America as long as we are able. We completely rely on the donations of partnering patriots across America to fund our ministry. Your donations fund powerful change on Capitol Hill and beyond. Please pray about supporting our full-time ministry on Capitol Hill to fight mandatory vaccines.

I stand firm on the prayer and hope that we can turn our nation around.
Sincerely,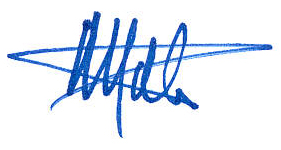 Mat Staver, Chairman
Liberty Counsel Action


P.S. With each day, the power of our politicians is growing, and our rights and freedoms are shrinking. Send a fax to demand that COVID-19 vaccines stay voluntary.
If you learned something in my emails today, I encourage you to forward this message to your family and friends.
If you can't send a fax, sign our petition to ask key leaders and those in the White House to end this spying on Americans.
Finally, if you share our concerns about what is happening, please donate to our organization's work on Capitol Hill.
---
Sources:
Bacon, John and Jessica Flores. USA Today. Coronavirus live updates: Fauci says vaccine could be available earlier than expected; report suggests who might get first vaccine doses. (2020, Sept 2).
CDC. CDC Vaccine Price List. (Accessed: 2020, Sept 2).
Christensen, Jen. CNN. Past vaccine disasters show why rushing a coronavirus vaccine now would be 'colossally stupid.' (Updated: 2020, Sept 1).
Weise, Elizabeth and Karen Weintraub. USA Today. Coronavirus vaccine on track for FDA approval by end of 2020, says Operation Warp Speed official. (2020, Aug 30).