You have been lied to. I'll show you how. One of the doctors I've worked with said when you learn the truth you will be shocked ... and then you will be angry.
There are multiple treatments for COVID. Ivermectin, in a lab setting, kills 99.8% of COVID viruses within 48 hours. This treatment has been known by the medical community for more than 11 months! But medical elites worked overtime to mislead you and hide this information from the general public ... while countless Americans died.
Instead, these medical bureaucrats and Big Pharma are pushing an experimental "vaccine," which is not really a vaccine. Zero studies have been done on the long-term impact of this injection and how your body will react in the future or if you later get COVID.
Vaccines use a weakened form of the virus. The COVID injection uses the experimental technique of mRNA. Prior animal testing using mRNA on animals for SARS failed. A vaccine has NEVER been approved using mRNA, and Moderna (founded in 2010) has NEVER made an FDA-approved drug.
And – there are FDA-approved drugs that are very effective in preventing and treating COVID!
In spite of this, there is a rush to mandate the COVID injection. Rush an urgent fax to state and federal leaders to demand that the COVID injection be the choice of individuals and not a decision made by medical bureaucrats. - Mat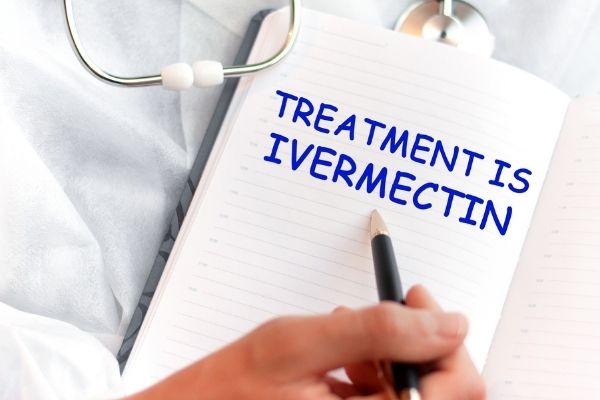 A prominent medical journalist published an article discussing ivermectin dated April 6, 2020. "Now, a team of researchers has found that a drug already available around the world can kill the coronavirus in a lab setting in just 48 hours," wrote nurse-turned-journalist Angela Betsaida B. Laguipo. She said, "Ivermectin reduced COVID-19 viral RNA present in cell culture by as much as 93 percent after 24 hours and by 99.8 percent after 48 hours. . . hinting that the medicine can potentially eradicate the virus."
This research from Australia was published in Science Direct on April 3, 2020. Yet the American medical bureaucrats and Big Pharma actively tried to hide it. Almost five months later "just as the numerous compelling studies for ivermectin were starting to roll in," said Dr. Pierre Kory. And Dr. Anthony Fauci's government agency - the National Institutes of Health (NIH) - issued a "warning" against doctors using ivermectin to treat COVID.
The NIH stood by that active warning for almost five months as reported death totals climbed. Finally, on Jan 13, 2021 the NIH moved to a neutral stance, just six days after Donald Trump agreed to leave office.
The lives lost due to the lies and coverup of medical bureaucrats and Big Pharma is heart wrenchingly outrageous!
Now, these same people and companies are pushing you to get an under-tested injection that has resulted in the death, permanent disability, or life-threatening reaction in a growing number of people.
It should always be your choice to take an injection. But you are entitled to know all the facts, not the spin, and should not be forced.
But last week in Israel, citizens cannot attend church or other events unless they have had this COVID injection. We need to make sure that never happens in America! I urge you to stand with those who choose to not take this injection. Send your critical fax to state and federal leaders today.

Dr. Pierre Kory is an ICU lung specialist and a founding member of the Front Line Covid-19 Critical Care Alliance (FLCCC). He addressed the U.S. Senate Committee on Homeland Security and Governmental Affairs in a powerful testimony on December 8, 2020. He testified that ivermectin "is proving to be of miraculous impact, and when I say miracle, I do not use that term lightly ... That's a scientific recommendation based on mountains of data that's emerged in the last three months." (Sep-Dec).
As a preventative measure, "They prophylaxed 800 health care workers [with ivermectin], not one got sick. In the 400 they didn't prophylax, 58% got sick; 237 of those, 400 got sick!" He continued, "We have four randomized control trials [of 1,500+] all showing the same thing, you will not die, or you will die at much, much, much lower rates, statistically significant, large magnitude results if you take ivermectin. It's proving to be a wonder drug."
Then Big Tech got involved. It blocked the video of his Senate testimony on YouTube. To this day, YouTube is still censoring this life-saving information.
How did the NIH respond to his plea? It refused to take any action as people continued to needlessly die. Then it simply revoked the warning against this drug. To this day, it still refuses to recommend ivermectin.
One family didn't wait for the NIH. Eighty-year-old Judith Smentkiewicz got COVID on Dec 22. Her family, unable to visit were told she was on a ventilator in ICU and only had a 20% chance of surviving. She was given three doses of ivermectin. "Within 48 hours, Ms. Smentkiewicz's condition improved, and she was taken off of the ventilator." However, the hospital interrupted her treatment and refused to give any more doses of ivermectin, and her condition deteriorated until the family was forced to sue the hospital in Michelle Kulbacki v. Kaleida Heath, begging to restart ivermectin.
"This lady was on a ventilator, literally on her deathbed, before she was given this drug," her attorney Ralph C. Lorigo told The Buffalo News. "The judge's order [to give ivermectin] saved this woman's life." She has been released from the hospital.
There are effective treatments for COVID! We do not need to panic and mandate an experimental, untested mRNA injection. This must remain the free decision of each person. Send an urgent fax to our state and federal legislators to ensure that the COVID injection is never mandated and stays the personal choice of free Americans.

This disinformation campaign affects your life and your freedom. LCA tries hard to bring truth based on facts. Help save the next "Judith" when you donate today to our extended Challenge Grant. DOUBLE YOUR IMPACT right now. Together, we have a critical mission.

Jesus said, "If you abide in my word, you are truly my disciples, and you will know the truth, and the truth will set you free." I pray for blessings and freedom on you and your family.


Mat Staver
Chairman
Liberty Counsel Action
P.S. Please take advantage of our extended Challenge Grant opportunity by sending your best possible gift. Your support will help Liberty Counsel Action remain on good financial footing to expand our impact in 2021.
P.P.S. Send a fax to key leaders demanding them to not mandate a vaccine. And sign our petition to these leaders to be delivered at critical moments in this fight against mandatory vaccinations.
Sources:
Delaney, P. (2021 Jan 19). 'Miraculous' ivermectin approved for use in the US for the treatment of COVID-19. LifeSite News.
Calya, L., Drucea, J. D., Cattona, M. G., David A. Jans, D. A., & Wagstaff. K. M. (Received: 2020, Mar 18; Published online: 2020 Apr 3). The FDA-approved drug ivermectin inhibits the replication of SARS-CoV-2 in vitro. Science Direct.
Front Line COVID-19 Critical Care Alliance. (Accessed: 2021, Feb 10). Prophylaxis & Treatment Protocols for COVID-19.
Herbeck, D. (2021, Jan 15). After judge orders hospital to use experimental Covid-19 treatment, woman recovers. The Buffalo News.
Laguipo, A. B. B. (2020, Apr 6). Antiparasitic drug Ivermectin kills coronavirus in 48 hours. News Medical Life Sciences.
Michelle Kulbacki v. Kaleida Health et al. State of New York Supreme Court. (Ruling filed: 2021, Jan 20). NYSCEF Doc. No. 18. Index No. 800259/202.
Murphy, J., Wu, J., Chiwaya, N., & Muccari, R. (Updated daily: 2021, Feb 9). Graphic: Coronavirus deaths in the U.S., per day: More than 400,000 people have died in the U.S. of Covid-19. Track which states are getting hit the hardest and which direction the country's death rate is going. NBC News.
U.S. Senator Ron Johnson. (2021, Feb 2). YouTube Cancels the U.S. Senate: It censors testimony from physicians on early treatments for Covid-19 patients. Wall Street Journal.