There is a flurry of activity in Congress right now. We are fighting multiple battles at the same time. A new battle, HR 1 (the election fraud legalization bill), passed by just two votes in the House above the necessary 218-threshold. This was in part because of bipartisan opposition.
Senate Democrats have a one-vote margin. If we don't stop HR 1, we will never have fair elections. The good news is we can stop it if we work hard.
Fax the senators to stop HR 1 and protect our elections. —Mat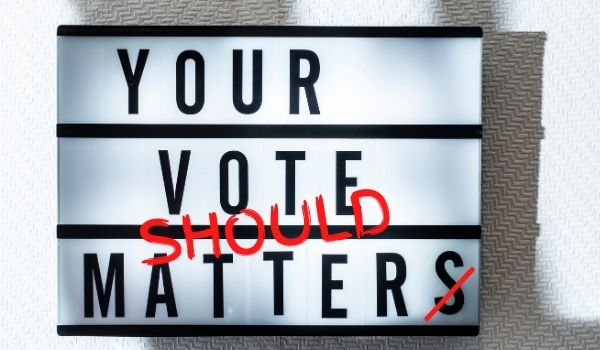 This is a critical issue that will have an immediate impact on our nation.
This bill pushes online and same-day voter registration; early voting; no photo ID; automatically registering everyone, including felons, illegal immigrants and green card holders; absentee ballots for all; and ballot harvesting. It even prohibits current efforts to clean up our voter rolls.
Under HR 1, a person can vote multiple times in different precincts and even different states. The person can use the same name or different names in different precincts—either way the fraudster will have the absolute right to vote. Poll workers will not be able to stop this fraud.
But it gets even worse when you realize everything can be done online. One person could register thousands of fraudulent voters (like the 8,000 fake voter registrations from two people in California). Then they can have each ballot sent via email, and there would be no physical address or ID to investigate!
Send your urgent fax to the Senate to demand that HR 1 be stopped before it causes incalculable and irreversible damage.

There are 15 states that have either a special election or a full statewide election this year. In fact, there are two elections today in Georgia House District 90 and Maine Senate District 14. Places like Virginia and New Jersey will choose governors all the way down to city officers this year.
Rep. Andy Biggs (R-AZ) wrote, "These crazy ideas, which will undermine the integrity of all our elections, is priority No. 1 of the Democratic Party. … They believe that the changes they propose will keep Democrats in power in perpetuity and reduce the role of Republicans."
This bill must be stopped!
We can do so if we stick together. Democrats have a one-vote majority in the Senate counting the vice president. This is why they need to see an outpouring of opposition to this bill.
Send your urgent fax to the U.S. Congress to demand that Republican legislators uphold election integrity and vote against HR 1 to stop fraud from becoming permanent.
One Democrat shared the secret to blocking this bill. Rep. Bennie Thompson (D-MS) told FOX, "My constituents opposed the redistricting portion of the bill as well as the section on public finances. I always listen and vote in the interest of my constituents." We must also tell the senators to listen!
Legislators are generally interested in how people view a certain bill. When we flood their offices with opposition, YOU can have a powerful impact. Send your urgent fax to the Senate to uphold election integrity and stop HR 1 from making this fraud permanent.
LCA is working with a team of national leaders to encourage election integrity in America. We have had legislative offices contact us about your faxes and ask for more information on the bills we are fighting.
If HR 1 passes in the Senate, it will override all state laws. That is why we must stop this federal power grab. If this bill passes, it will:
(1) Seize authority from the states and place the federal government in complete control;
(2) Ban state voter ID laws;
(3) Mandate no-fault absentee ballots;
(4) Force states to accept absentee ballots up to 10 days after Election Day;
(5) Automatically register all individuals (as opposed to "citizens"), and thus require the person to opt out;
(6) Register convicted felons;
(7) Allow people to vote outside their precinct;
(8) Punish anyone who questions the validity of the voter;
(9) Prevents poll watchers from cooperating with election officials to identify and challenge voter registrations concerning fraud;
(10) With same-day registration, no ID and no ability to verify a voter, a person can go precinct to precinct voting multiple times under different names;
(11) And much more.
You can help us fight this bill now! Take advantage of our extended Challenge Grant to DOUBLE the impact of your gift right now. Support Liberty Counsel Action by selecting here or the button below.

Please pray with me that this legislation will be blocked.
Mat Staver, Chairman
Liberty Counsel Action


P.S. There is no time to waste to defeat this bill. We have a Challenge Grant that will effectively DOUBLE the impact of your donations! Select here to equip our staff to fight this battle for a free and fair election.
Then send a fax directly to members of Congress to urge them to fight against this bill. And sign our petition against this bill.
---
Sources:
H.R.1 - For the People Act of 2021. (2021, Jan 4). 117th Congress (2021-2022 Session).
Carnahan, A. (2021, Mar 4). Mississippi Rep. Is Only Democrat to Vote Against HR.1. Daily Caller.