My legal team is being flooded by people asking for help as their employer or school is forcing them to get COVID injections or lose their job or hope of ever graduating. There are real people facing these challenges right now.
At the same time, there is a long list of breaking news stories on post-COVID injection deaths. The total reported number of people who lost their lives after these injections has risen to 3,186 people. There were also 86,080 adverse reactions that include 115 miscarriages. According to the CDC and a Harvard study, less than one percent of adverse vaccine reactions are reported on the VAERS log. The real numbers could be staggering.
One state is now pushing to erase all religious exemptions to vaccinations for all schools. This is a huge jump toward forced vaccines and the passports to prove it. Vaccine passports are a serious threat. Demand freedom from MANDATORY VACCINE PASSPORTS and TRACING APPS! — Mat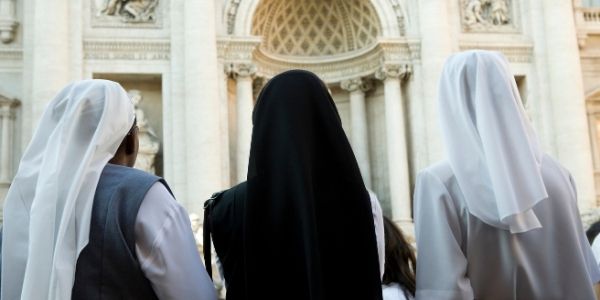 Few things are more heinous than government requiring a Catholic school to force the children to be injected with experimental shots, including aborted fetal cells, or one that was tested using the cell line of an aborted child. Catholic clergy and nuns must not be forced to choose between their faith and their mission to educate children.
However, that is exactly what some Connecticut legislators want to do. Their state House just passed a bill to revoke ALL religious exemptions for ALL vaccines on school-age children—starting at kindergarten. Forty-five states have religious opt-outs, but COVID is now being used to gut religious freedom. Just two years ago, 48 states had religious accommodation laws.
And this bill passed by nearly a 2/3 majority in the Democrat-controlled state house!
There are 198 religious schools that serve about 45% of the students in the state and almost 8,000 students that rely on this religious exemption. But this freedom is hanging by a thread inside a Democrat-controlled Senate and a Democrat governor's mansion. In addition, 71% of people in this state identify as either Protestant, Catholic or Jewish.
The CT governor will sign the bill if it passes. He says, "it sends a strong signal, which I appreciate. Get vaccinated."
Religious freedom is the reason America was founded. We fought back against government restrictions on places of worship. Now the attack is intensifying over mandatory health or digital vaccine passports. We must not be fooled into thinking this threat to freedom will pass with COVID. We must stop this threat now!
Stop this insanity. Tell governors and legislators NO MANDATORY VACCINE PASSPORTS or TRACKING APPS.

Here is a short list of a few of the post-vaccine deaths that have hit the news. It cannot be seriously maintained that all of the deaths and adverse reactions are merely coincidence.
Haley Brinkmeyer, a healthy 28-year-old physical therapist who played soccer, softball and basketball in college and graduated with her Ph.D. in 2018, was injected on Jan. 19. Two days later, she was dead.

Sara Stickles, another 28-year-old health care worker, got the second injection Feb. 2. Five days later, she had a stroke and died after 10 days. She is survived by a young son.

Tim Zook, a 61-year-old X-ray technician, had "never been so excited to get a shot," according to his Facebook post Jan. 5. But Zook never left the hospital. Four hours after taking the shot, he was admitted to the ER. Within two days, his blood pressure had dropped into a dangerous zone, and his kidneys were failing. He died four days after his second shot.

Kassidi Kurill, a healthy 39-year-old surgical tech and single mother described as having more energy than anyone around her, got the second Moderna shot and was dead four days later with kidney failure. She had no known pre-existing conditions and is survived by her daughter.

Janet Moore, a 39-year-old nurse with no known comorbidities, was dead within 48 hours of the COVID shot. Her brother said, "it was a mandatory vaccine … for her job." She is survived by her two sons.

Witold Rogiewicz, a Polish doctor, made fun of others' concerns while getting injected on Jan. 26. He died suddenly on Feb. 15.

John Foley, a brilliant 21-year-old junior studying medicine at the University of Cincinnati, got a J&J injection on April 10. That evening, he started feeling bad and died the next day. However, the CDC stated no males have been harmed by J&J COVID shots, so Foley's death is being ignored. J&J will now have to include a warning label, but patients never see the labels of the vials from which an injection is drawn.

There are more than 3,000 other stories of sudden death after these injections, and vaccine manufacturers have zero liability or financial responsibility for any of them!
We need to fight for the freedom for each individual to have the choice to decide what to inject in their bodies. Even if you have already faxed before, we need to keep this demand for freedom on the desks of our politicians. Stand up for freedom. Tell governors and legislators NO MANDATORY VACCINE PASSPORTS or TRACKING APPS.

NBC just published an article applauding that "Americans vaccinated against Covid may be allowed to go to Europe in summer"—but those avoiding the shot are expected to face extensive travel restrictions.
If we do not push back, we will lose the freedom to work, shop, dine, travel and even worship. Since we began messaging, a number of states have pushed back with executive orders or pending legislation. We have momentum, and we must not take freedom for granted.
LC Action is doing everything in our power to fight these vaccine passports, tracking, tracing and government overreach. When you support our team, you strengthen our ability to fight against this. Please consider becoming a monthly recurring donor or sending a one-time gift today. DOUBLE the impact of your gift through our Challenge Grant. Support Liberty Counsel Action here or the button below.

Fighting for freedom,
Mat Staver
Chairman
Liberty Counsel Action
P.S. Join our extended Challenge Grant to effectively DOUBLE the impact of your donations! Select here to equip our staff to fight this battle for free and fair medical choices.
Send a fax to key leaders demanding they do not mandate a vaccine. And sign our petition to these leaders to be delivered at critical moments in this fight against mandatory vaccinations.
Sources:
Haigh, S. (2021, Apr 20). Bill ending religious vaccine exemption now heads to Senate. Associated Press.
Frontline Workers Testimonies: News Reports - VAERS Data. (Updated: 2021, Apr 22). America's Frontline Doctors. 139 pages.
Open VAERS. (Updated: 2021, Apr 16). VAERS COVID Reports: Vaccine Adverse Events Reporting System, USA.
Private School Review. (Accessed: 2021, Apr 27). Top Connecticut Religiously Affiliated Schools.