A second House Republican, who voted to impeach Trump, was censured by his state party! Find out who, below.
This sham impeachment is looking increasingly like a Marxist "kangaroo court." That is exactly the name Sen. Rand Paul gave it from the floor of the Senate.
In case you missed it, I'll share how this double standard is designed to give radicals a free pass for doing exactly what they are attempting to accuse Trump of--encouraging violence.
We need to continue flooding the offices of these senators with the voices of peaceful patriots standing against this unconstitutional and deeply biased effort. We have already seen that your faxes are making a difference. Send your fax to members of the Senate right away. - Mat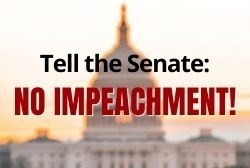 Over the weekend, Rep. Tom Rice (R-SC) was censured by his state-wide Republican Party because of his vote to impeach Trump. The vote was 43 to censure the representative, two votes abstained, and not a single vote in favor of this turncoat legislator.
"In the first and most consequential vote of the new session, Mr. Rice sided with Nancy Pelosi and the unprincipled Leftists," said South Carolina GOP Chairman Drew McKissick.
This censure is a second warning and a clear message to senators against impeachment. Now, you have the opportunity to add your voice through our fax program and get it to the desks of these legislators who have not yet cast their vote on impeachment.
We have a wave of momentum right now, and your voice is critical. Send a critical fax to legislators who will cast their vote and urge them to stand against the Senate's impeachment.


In case you missed it, let me set the stage.

After violence, damage, and the death of a former police officer, who do you think said: "This is a movement, I'm telling you. They're not gonna stop. And everyone beware because they're not gonna stop...And everyone should take note of that. They're not gonna let up and they should not."

Then-Democrat-Senator Kamala Harris said that just days after the death of retired police officer David Dorn, and after rioters had stormed the White House, injured 60 Secret Service members, sent 11 of them to the hospital and destroyed six government vehicles.

Who do you think said: "If you think we are rallying now, you ain't seen nothing yet...No peace, No sleep...If you see anybody [the crowd disagrees with] in a restaurant, in a department store, at a gasoline station, you get out and you create a crowd, and you push back on them and you tell them that they are not welcome anymore, anywhere."

That was Democrat Rep. Maxine Waters.

Who do you think told people, "Please don't just come here today and then go home...Go to the Hill today. Get up and, please, get up in the face of some congresspeople."

It was Democrat Senator Cory Booker.

These are the radicals pushing impeachment!

If you've heard enough, click here or below to send your critical fax to each member of the Senate to urge them to stop trying to prosecute Trump for something Democrats did repeatedly.




But it doesn't end there!

Who stood before the Supreme Court and threatened certain Justices by name? "I want to tell you Gorsuch, I want to tell you Kavanaugh, you have released the whirlwind. And you will pay the price! You won't know what hit you if you go forward with these awful decisions."

That was now-Senate Democrat Majority Leader Chuck Schumer after 165 rioters had already been arrested for breaking through a police barrier, rushing up the steps, and beating on the doors of the Supreme Court during Justice Kavanaugh's swearing in.

Who would have said this -- "If we were in high school, I'd take you behind the gym and beat the h-ll out of him."

That was then-Democrat-candidate Joe Biden.

Who called for riots saying, "I just don't even know why there aren't uprisings all over the country. And maybe there will be."

That was Democrat House Speaker Nancy Pelosi.

In contrast, what did Trump actually say? He urged people to "peacefully and patriotically make your voices heard" on a march "to" the Capitol.

Reading his speech, it is clear he never encouraged violence. Moreover, the incursions into the Capitol building began BEFORE he ended his speech, a 45-minute walk away from his location.

There is NO authority to impeach a private citizen...

There were no witnesses, no evidence, and no defense allowed in the House. No wonder -- there is no basis for impeachment.

I urge you to send an urgent fax to the Senate to demand that our representatives end this bogus attack on Trump.




Liberty Counsel Action's work goes far beyond these emails to the personal efforts of our staff on Capitol Hill to amplify your voice. Our staff members were some of the very few that not only attended this year's March for Life, but had the opportunity to speak and make your voice heard on Capitol Hill for the pre-born.

With our special extended Challenge Grant, you can DOUBLE THE IMPACT of every gift. Support Liberty Counsel Action by selecting here or the button below.

My prayer for our nation is "let us not lose heart in doing good, for in due time we shall reap if we do not grow weary." Together, we can still have a huge impact in our nation. And it can start with the defense of Trump.

Sincerely,

Mat Staver
Chairman

P.S. We are pleased that our extended Challenge Grant will DOUBLE the impact of your donations right now! Select here. You can also partner with us by becoming a monthly supporter.
P.P.S. Send your urgent fax demanding the U.S. Senate to end the impeachment. Then sign our petition to key Senate leaders and forward our email to your friends.
Sources
C-SPAN. (2021 Jan 26). Senators Paul and Johnson on Impeachment.
Fox and Friends. (2018, June 25). Waters encouraged protests against the Trump WH. Fox News Channel.
Matt Margolis, M. (2021, Jan 7). Kamala Harris Called BLM Protests 'a Movement' Last Summer, Said 'They Should Not' Stop. PJ Media.
Olohan, M.M. (2020, March 4). Schumer warns Gorsuch and Kavanaugh 'You have released the whirlwind and you will pay the price.' BizPac Review.
Rosenblatt, K. (Updated: 2018, Oct 6). Protesters pound the doors of the Supreme Court following Kavanaugh confirmation: U.S. Capitol Police said a total of 164 people were arrested during the protests for "crowding, obstructing, or incommoding." NBC News.
Rambaran, V. (2020, May 31). At least 60 Secret Service members injured during George Floyd protests in DC. Fox News Channel.
Trump, D.J. (2021, Jan 6). "Save America" Rally Speech.
Saavedra, R. (2018, Jul 26). WATCH: Cory Booker Urges Activists To 'Get Up In The Face' Of Members Of Congress. Daily Wire.