There have been major developments in the impeachment trial of Trump.
Prior to January 6, Trump had offered multiple times to have 10,000 members of the National Guard in Washington, DC. And multiple times his offer was rejected. However, the fake news instantly started howling about how the Capitol needed help and Trump "refused" to call in the National Guard, when now it's apparent it was leadership INSIDE the Capitol building who refused Trump's offer of help.
I'll unpack this below.
Click here or below to send your critical fax to each member of the Senate to urge them to stop the persecution of Trump. - Mat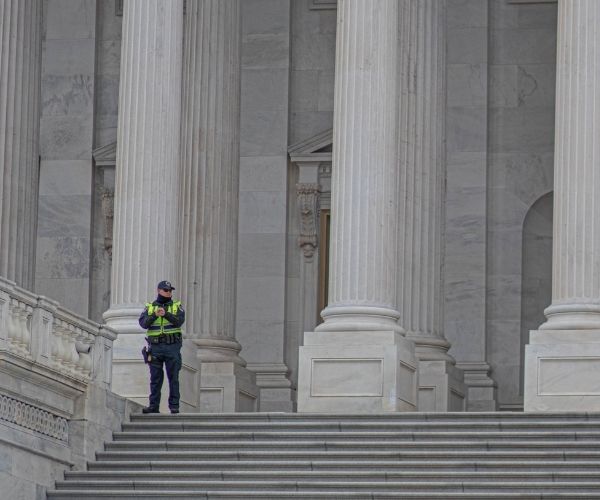 After the fake news spewed lies—it's time to set the record straight.
Forbes headlined: "Trump Resisted Sending National Guard To Quell Violent Mob." PoliticusUSA headlined: "Trump Didn't Call In The National Guard. He Restricted Them." These are lies.
Former White House Chief of Staff Mark Meadows told FOX, "Even in January … as many as 10,000 National Guard troops were told to be on the ready by the Secretary of Defense, that was a direct order from President Trump."
Then high-ranking individuals in the Capitol Hill Police whined to the media that "the National Guard and other additional security support could have been provided, but no one at the Capitol requested it." Also a lie.
Then-chief of U.S. Capitol Police Steven Sund told NPR that he had "requested assistance six times ahead of and during the attack on the Capitol. Each of those requests was denied or delayed," by his own Capitol Hill supervisors.


"Accountability needs to rest with where it ultimately should be," Meadows concludes, "and that is on Capitol Hill." They had knowledge of large numbers of people coming to D.C. There were public reports that Antifa and BLM, both known violent groups, were coming and they failed to accept the help Trump offered for protection!
These lies were manufactured to manipulate the public against Trump and to silence opposition to his impeachment trial. I urge you to send a critical fax to the Senate to demand that our representatives end this bogus attack on Trump.

It doesn't stop there. Information is slowly leaking out that Officer Brian Sicknick's unfortunate death may NOT have been caused from violence at at the Capitol. Even CNN admitted his cause of death is still unknown and suspicion surrounds the current narrative.
The following clues have been compiled by Julie Kelly:
"A medical examiner's report has not been released and law enforcement authorities are tight-lipped; in a January 26 email to me, an FBI spokeswoman refused to comment on the status of the investigation...
Sources, however, told CNN that the medical examiner "did not find signs that the officer [Sicknick] sustained any blunt force trauma . . . and early reports that he was fatally struck by a fire extinguisher are not true." Investigators also couldn't confirm that Sicknick died as a result of reaction to pepper spray.
Messaging from the FBI does little to inspire trust in the Sicknick storyline. The agency at first issued a statement that claimed 37 suspects were under investigation for the officer's death but later said the statement was in error and relied on "incorrect internal information."
During a January 12 press briefing on its sweeping investigation into the events of January 6, the assistant director for the FBI's D.C. field office twice referred to Sicknick as having "passed away," with no mention of his having been "murdered" or "killed." A distinction, in this matter, with a big difference."
This is a completely different narrative than the fake news wants you to believe.
But yesterday on the floor of the Senate, Rep. David Cicilline (D-RI) publicly blamed multiple "police deaths" on Trump, with zero evidence to back up his false claim. Then, in a telling statement Rep. Cicilline declared the requirement for the U.S. Supreme Court Chief Justice to preside "does not matter." Send your fax to members of the Senate right away to oppose impeachment.

Yesterday marked a chilling attack on Trump and the Constitution. I can assure you that Liberty Counsel Action will search for the truth and defend the Constitution. Help us fight for freedom by joining our extended Challenge Grant which will DOUBLE the impact of your gift. Select here or below.

I want to encourage you with Psalm 46. "God is our refuge and strength, a very present help in trouble. Therefore we will not fear though the earth should change and though the mountains slip into the heart of the sea." Our strength comes from God alone.
Mat Staver, Chairman
Liberty Counsel Action
P.S. We are pleased that our extended Challenge Grant will DOUBLE the impact of your donations right now! Select here. You can also partner with us by becoming a monthly supporter.
P.P.S. Then send your urgent fax demanding the U.S. Senate end this sham impeachment. Then sign our petition to key Senate leaders and forward our email to your friends.

Sources:
Bartiromo, M. (2021, Feb 7). Mark Meadows Live on Sunday Morning Futures. Fox News Channel.
Colton, E. (2021, Jan 10). Capitol Hill officer may have died during riot due to medical condition: Report. Washington Examiner.
Diaz, J. (2021, Jan 11). Ex-Capitol Police Chief Says Requests For National Guard Denied 6 Times In Riots. National Public Radio.
Kelly, J. (2021, Feb 8). What Happened to Officer Brian Sicknick? American Greatness.
Perez, E., Shortell, D., & Wild, W. (2021, Feb 3). CNN Investigators struggle to build murder case in death of US Capitol Police officer Brian Sicknick. CNN Politics.