American justice is facing a dangerous crisis. Our system is built on the idea that every person deserves a fair trial, an unbiased jury, and adherence to the law. However, the U.S. Senate is filled with biased "jurors" who will ignore the law and will render a verdict. Many members of the Senate are motivated by hate – not the Constitution!
On the first day, six Senate Republicans voted with Democrats to move forward with this unconstitutional political theater.
We need to flood every single senator's office with an urgent fax demanding they vote against impeaching Trump. Make your voice heard with a critical fax to demand senators stop this unconstitutional impeachment. - Mat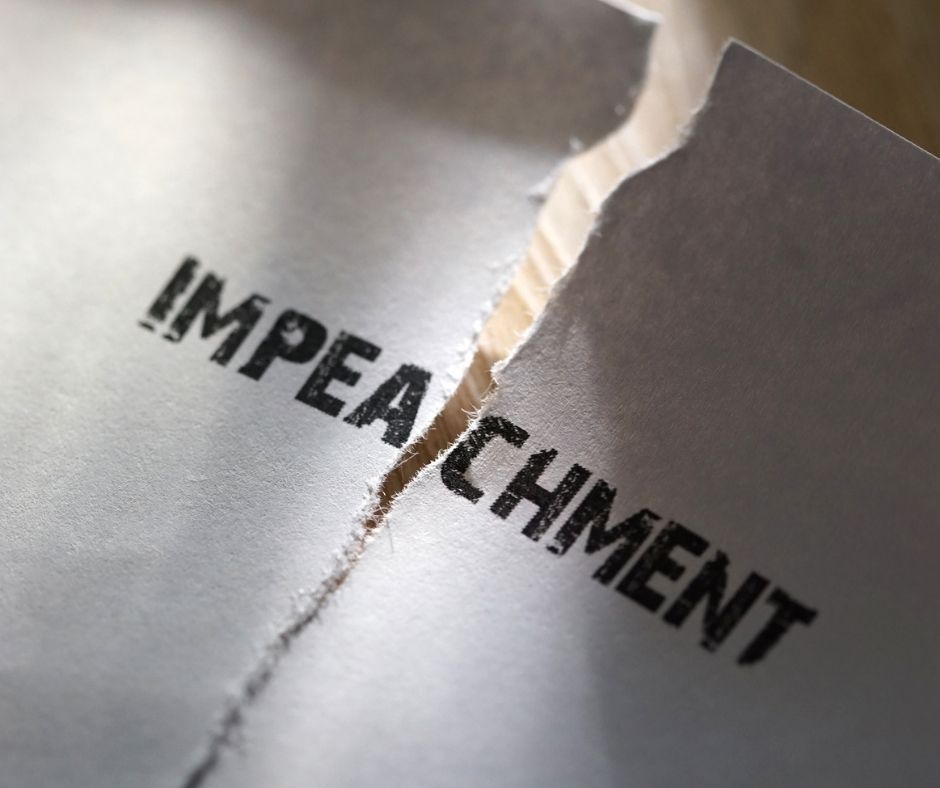 Motivated by hate, members of Congress are making a shameful spectacle to the world. Throwing aside the Constitution and the facts, they rush ahead to punish Donald Trump – and to silence YOU! This is not about tweets or his speech on January 6. It is fueled by hatred against Trump and his policies – and by extension against "We the People."
The Democrats and the six Republicans are entitled to their own opinions. But they are not entitled to disregard the Constitution and use their position to punish a private citizen.
I am frankly tired of this political theater and abuse of power. Demand the Senate follow the Constitution they swore to uphold and end this impeachment trial by sending your urgent fax today!
The real goal of these haters is clear: IF Trump is convicted in the Senate the following will happen.
Trump is banned from running for office;

He is humiliated;

His secret service detail is revoked; and

Those who voted for Trump and/or who love America and realize the swamp is the problem will be effectively silenced.
The nation of Iran has issued a lifetime fatwah on Trump and his family. This means that radical mullahs want to kill him and his family because Trump stood for Israel, sanctioned Iran, and took out their terrorist leaders who killed and maimed our American soldiers.
"Our nation will not give up until they take revenge on his [Trump's] blood as its right," said Iranian President Hassan Rouhani. "In a few days, the life of this criminal will end … I emphasize again … we will continue the resistance until that day." (Rouhani's threats were published on Twitter but his account is STILL active.)
Imagine having that target on your family from a nation with such a bloody history! But it gets worse. Six days ago, 11 Iranians were arrested for illegally crossing into our southern border with unknown intentions. And remember, Biden is reinstating a catch-and-release policy for illegals on our Mexico border. That is why it is all the more necessary that you send a fax right now to tell our senators to stop this impeachment trial.

In a shocking move this week, Sen. Bill Cassidy (R-LA) joined a handful of Republicans and all Democrat senators in a vote that allowed the impeachment trial to proceed. The Louisiana Republican Party was "profoundly disappointed" by his vote. The full list of Republican turncoats includes Sens. Susan Collins (R-ME), Lisa Murkowski (R-AK), Mitt Romney (R- UT), Pat Toomey (R-PA), and Ben Sasse (R-NE).
Just in case you missed it, yesterday I shared how President Trump offered 10,000 National Guard troops to the Capitol Police BEFORE January 6, and his offers were repeatedly refused. And, the incursion into the Capitol Building occurred long BEFORE he ended his speech. Finally, those who were at the Capitol Building did not hear his speech since that occurred in a different location.
But don't let facts get in the way of a made-for-TV moment for Democrats to abuse Trump and put his life in danger. With the weak legal defense that his new lawyers presented, it is critical that we flood the senators with faxes. Act now to get your fax into the offices and on the desks of senators to vote against the removal of Trump.

As I have shown, under Article II sections 1 and 4, impeachment of a president can only occur if the president is IN OFFICE. You cannot be removed from office if you are not in office. Article I, section 3, requires the Chief Justice to preside at the Senate trial of THE president. The Chief Justice has refused because he knows you cannot impeach a private citizen.
This impeachment sham is lawlessness. It needs to end.
Help us fight back and make sure the Constitution and the rule of law continue to mean something.
I encourage you to partner with Liberty Counsel Action. Your donation allows us to keep fighting. With our extended Challenge Grant, you can DOUBLE YOUR IMPACT with every gift. Click here or the button below.

Join me in praying Psalm 43 for justice in our nation, "Vindicate me, O God, and plead my case against an ungodly nation; O deliver me from the deceitful and unjust man! For You are the God of my strength … Hope in God, for I shall again praise Him."
Together, we can change the course of history.
Mat Staver, Chairman
Liberty Counsel Action
P.S. We are pleased that our extended Challenge Grant will DOUBLE the impact of your donations right now! Select here. You can also partner with us by becoming a monthly supporter.
P.P.S. Send your urgent fax to the U.S. Senate against the impeachment. Sign our petition to key Senate leaders and forward our email to your friends.
Sources:
Betz, B. (2021, Feb 5). 11 Iranians arrested in Arizona after jumping US-Mexico border, Fox News Channel.
Colton, E. (2021, Jan 10). Capitol Hill officer may have died during riot due to medical condition: Report. Washington Examiner.
Kelly, J. (2021, Feb 8). What Happened to Officer Brian Sicknick? American Greatness.
Louise, E. (2021, Jan 1). Iranian President Issues Death Threat To President Trump, 'He Will Go To The Dustbin Of History.' Daily Caller.
Morton, V. (2020, Dec 30). Iran's Rouhani issues Trump death threat: 'In a few days, the life of this criminal will end.' Washington Times.
Pentchoukov, I. (2021, Feb 9). Senate Authorizes Impeachment Trial. The Epoch Times.
Powers, F. (2021, Jan 2). Top Iranian officials step up death threats over Soleimani: Trump 'will not be safe on Earth.' BizPac Review.
Stieber, Z. (2021, Feb 10). Louisiana Republican Party 'Profoundly Disappointed' After Sen. Cassidy's Vote in Impeachment Trial. The Epoch Times.
Impelli, M. (2021, Feb 9). Trump Impeachment Defense Lawyer Bruce Castor's Opening Statements Eviscerated by Critics. Newsweek.