It is "entirely possible [the COVID injection] will be used for massive-scale depopulation." These are the words of former Pfizer Vice President and Chief Science Officer Dr. Mike Yeadon.
Dr. Yeadon was the first one to raise awareness of the potential for this vaccine to cause miscarriages and infertility. Already 81 miscarriages have been reported as caused by these injections. Sadly, this number is rising almost daily. Keep in mind that historically less than 1% of deaths or adverse vaccine reactions are submitted to this CDC reporting system.
Whether you've received, or want to receive, the COVID shot--it is critical to demand that this injection remains the free choice of the individual.
However, the Biden administration is lying about not pushing for mandatory vaccine passports. Internal documents prove the opposite. Stand up and send your fax demanding our governors and federal legislators stand against vaccine passports and tracking and tracing apps. - Mat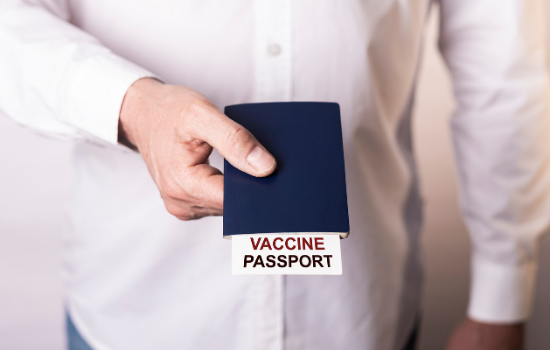 First, the lie: "The government is not now, nor will be, supporting a system that requires Americans to carry a [vaccine] credential," said White House Press Secretary Jen Psaki.
Now, the truth: We have a copy of a federal PowerPoint presentation that proves this lie. Dated March 2, 2021--the Federal Heath IT Coordinating Council launched a "COVID-19 Vaccine Credentials Discussion." This federal document makes the following statements:
"Vaccine Credentials—A Key Element of Recovery Efforts: Proof of vaccination for certain activities is not new. What is new is that such proof may be a critical driver for restoring baseline population health and promoting safe return to social, commercial and leisure activities."
" ...for an individual's return to day-to-day activities. Federal government will inevitably be involved with vaccine credential solutions... "
"Federal entities, like their commercial counterparts, will likely require vaccine verification for a variety of purposes."
"The VA [Veterans Affairs] Office of Information Technology is engaged with the Vaccine Credential Initiative. We are implementing a VA-issued vaccine credential."
"Will there be Federal uses?" It lists places that ask for vaccine passports such as "International and domestic travel," "Access to Federal facilities," "Access to VA/DOD and military facilities" and "Federal health care providers for continuity of care."
It is a "forum for raising awareness of initiatives across Federal agencies...and communicating progress to the White House."
Biden and his press secretary are lying. There is an active government program working domestically and internationally to push a vaccine passport that will report its progress directly to the White House!
Vaccine passports are a serious threat! It's time to fight for the freedom to travel, shop, dine, work and just live life. Your health decisions must not be dictated by government or corporations. Demand our freedom now. Make your voice heard by sending an urgent fax to these leaders.

This former Pfizer VP warns, "I have absolutely no doubt that we are in the presence of evil (not a determination I've ever made before in a 40-year research career) and dangerous products." Remember Bill Gates' comment, "If we do a really great job on new vaccines, health care, reproductive services, we can lower that (population) by perhaps 10 or 15 percent."
However, it is chilling that this federal program already has 17 separate technology initiatives coming together under one government plan to push "vaccine credentials." This includes invasive technology initiatives from MIT, IBM, MasterCard, the discredited World Health Organization and even the International Air Transport Association.
This federal program even created a flow chart of how it plans to distribute your private medical data in its vaccine "credential" plan.
I warned about vaccine passports a year ago! Now our government is publicly lying and quietly pushing this vaccine passport through multiple federal departments and internationally! Urge our governors to take the lead on keeping COVID vaccines the free choice of those who may receive them.

We are continuing to fight to protect freedom. Our team created a sample state executive order to distribute to sympathetic governors across the nation. We will ask them to protect your freedom to stop mandatory vaccine passports and tracking and tracing apps. Your faxes are critical to get them to act.
Our work is possible because of you! You are the reason we can fight back and protect freedom in America and around the world. Please DOUBLE the impact of your gift today through our Challenge Grant. Support Liberty Counsel Action by selecting here or the button below.

Psalm 40:13 states, "Be pleased, O Lord, to deliver me; Make haste, O Lord to help me." Pray for deliverance of our nation and for our liberties.
Onward,
Mat Staver, Chairman
Liberty Counsel Action
P.S. We must push past the lies of the Biden administration and block this government plan to force you to have a vaccine passport. Donate today to our extended Challenge Grant to effectively DOUBLE the impact of your donations! Select here to equip our staff to fight this battle against mandatory vaccines.
P.P.S. Send a fax to key leaders demanding they do not mandate a vaccine. And sign our petition to these leaders to be delivered at critical moments in this fight against mandatory vaccinations.
Sources:
Mordechai Sones, M. (2021, Mar 25). Exclusive: Former Pfizer VP to AFLDS: 'Entirely possible this will be used for massive-scale depopulation.' America's Frontline Doctors.
Office of the National Coordinator for Health Information Technology (2021, Mar 2). COVID-19 Vaccine Credentials Discussion. Federal Health IT Coordinating Council.