Late last night Sen. Schumer (D-NY) scheduled a vote on what is essentially the election fraud bill (under a new number). This battle is far from over. Sen. Joe Manchin (D-WV) also just announced that he is now open to this so-called "compromise" to give national control of federal elections and so much more! Schumer and Manchin met this week to plan how they will push this forward!
Democrats need only one more senator to reach 50. If one more senator supports this dangerous bill, Kamala Harris will break the tie, and the bill could slip through under the budget reconciliation process. This battle is NOT over.
Democrats are dangling millions of dollars for reelection campaigns in front of Democrat and Republican senators. This bill will give each senator up to 1.8 billion dollars for their reelection budget.
We must hold the 50 Republican senators and Manchin accountable. Demand that S 1 be stopped with your urgent fax to the whole Senate before they permanently destroy fair elections. —Mat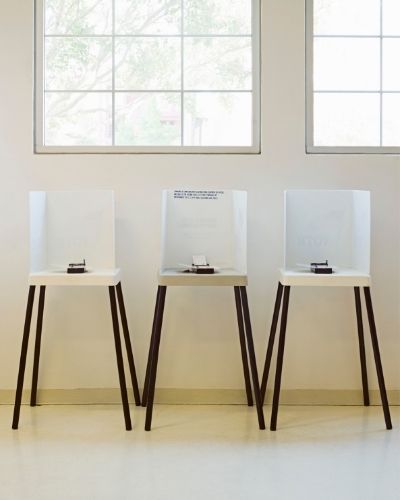 HR/S 1 pushes online and same-day voter registration; early voting; no photo ID; automatically registering everyone, including felons, illegal immigrants and green card holders; absentee ballots for all; and ballot harvesting. It even prohibits current efforts to clean up our voter rolls.
Under this bill, a person can vote multiple times in different precincts and even different states. The person can use the same name or different names in different precincts—either way, the fraudster will be able to vote. Poll workers will not be able to stop this fraud.
But it gets even worse when you realize everything can be done online. One person could register thousands of fraudulent voters (like the 8,000 fake voter registrations from just two people in California). Then they can have each ballot sent via email, and there would be no physical address or ID to investigate!
Send your urgent fax to the Senate to demand that HR/S 1 be stopped before it causes incalculable and irreversible damage.
If one more senator votes for S 1, this bill could pass. This might include Senators Joe Manchin (WV), Richard Burr (NC) and Pat Toomey (PA), who are not seeking reelection, plus Susan Collins (ME), Lisa Murkowski (AK) and Mitt Romney (UT), who are.
If one senator pulls a "McCain" and votes with the Democrats, or if we lose Sen. Manchin, then Schumer will use his position to place the bill on the floor and slip it in through the budget reconciliation. This is why we must keep pressure on every senator.
Our nation is sitting on a precipice with 49 U.S. senators ready to push us off the cliff with their cosponsorship of S 1. It is urgent to flood senators with the outcry of American citizens against this bill.
Send your urgent fax and sign the petition to the senators to demand they stand against HR 1 (S 1).

There are several alternative paths forward for Democrats on this bill. One is through budget reconciliation, which only needs 51 votes.
The other is unanimous consent of whichever senators are on the floor at that moment. So, if Democrats can find a time when Republicans are not on the floor or when those present do not object, S 1 can pass.
Like a boxer who has gotten the upper hand, we cannot stop fighting against this bill while the opponent is still standing. We must knock out this bill. Make no mistake, this bill is still live. It is still only one vote from passing. Fax the senators to stop HR 1 (S 1) and protect our elections.
You can help us fight this bill now! Our presence on Capitol Hill is critical as we work with members of Congress and monitor these threats.
LC Action is fighting this bill along with other bills, like HR 5, the so-called "Equality Act." We are fighting against vaccine passports, which are coming in like a flood.
But we can only stand in the gap because of your support. Each month, we rely 100% on the support of people like you to continue fighting these battles. Please consider becoming a monthly supporter of LC Action or sending a one-time gift today. We have a Challenge Grant that will DOUBLE the impact of your donation right now. So don't delay.

I encourage you to pray and fight for this bill to be blocked. If HR/S 1 passes, we lose America. Free and fair elections are the foundation of a free people. Now is the moment for freedom-loving Americans to stand in the gap and demand honest elections free from fraud and interference in the governance of our nation.
Mat Staver, Chairman
Liberty Counsel Action
P.S. Support LCA through our Challenge Grant that will DOUBLE your gift.
P.P.S. Send a fax directly to the full Senate to urge them to block HR/S 1. There is no time to waste to defeat this bill.
Then sign our petition against this bill.


---
Sources:
Business Meeting Agenda: S. 1. (2021, May 11). U.S. Senate Rules and Administration Committee at Russell Senate Office Building, Room 301.
Chaitin, D. (Updated: 2021, May 11). Michigan attorney alleges 1,061 'phantom ballots' found in Antrim County 2020 election case. Washington Examiner.
H.R.1 - For the People Act of 2021. (2021, Jan 4). 117th Congress (2021-2022 Session).
Phillips, J. (2021, May 12). Pelosi, Schumer come to Rep. Cheney's defense after House GOP votes to oust her. The Epoch Times.