U.S. Senator Ron Johnson (R-WI) held a public hearing to give voice to real people with life-threatening, debilitating reactions to the COVID shots. After he communicated publicly available government data, he was censored.
Big Pharma and the media don't want you to know the truth. They don't want you to know how a woman went from triathlete to paralytic.
We will not pretend like Candace Hayden is invisible. The story of Candace Hayden must be told.
Demand freedom at both levels of government through your urgent fax to these decision-makers. Say NO MANDATORY VACCINE PASSPORTS OR COVID SHOTS. - Mat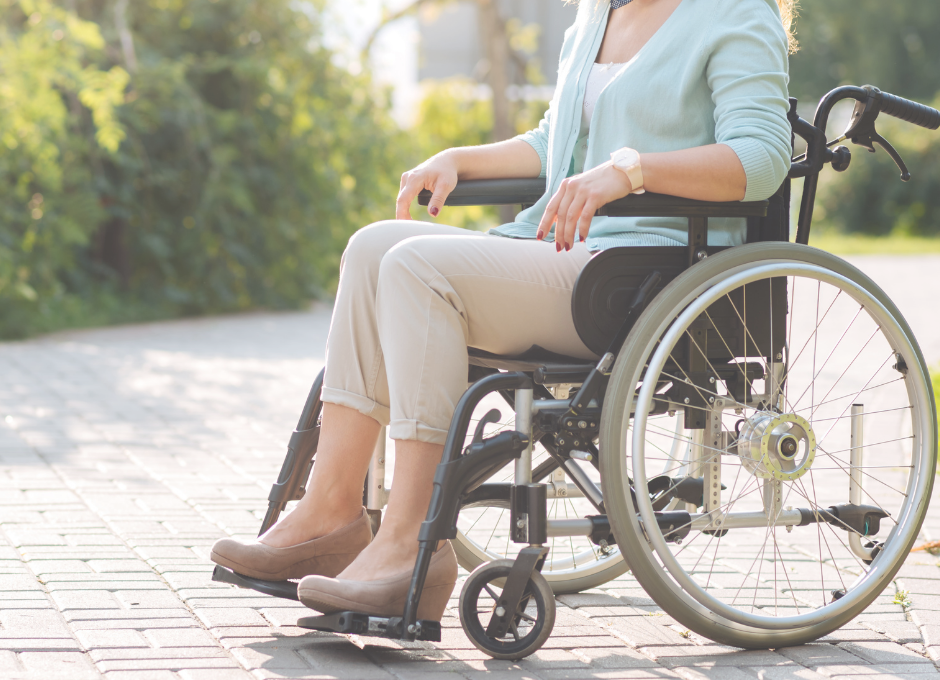 "You just need to get used to being disabled."
That is what the doctor told Candace Hayden, a Detroit triathlete who received both doses of the Moderna shot. Two weeks later, she couldn't stand. She couldn't even feel her legs. Candace suffered from both paresthesia and partial paralysis from the chest down. This led to a month-long hospital stay and weeks of physical therapy to regain a fraction of her mobility and movement.
After many tests, doctors couldn't figure out what was wrong with Candace.
One of the most shocking aspects of Candace's testimony was that there was a second patient in the same hospital with the same symptoms. Candace was able to learn about this other patient, but her own doctors refused to connect with the other patient's doctor.
This shocking lack of medical curiosity, or communication, is appalling.
Just as disturbing is when Sen. Johnson held a press conference allowing Candace and others to share their stories, he was silenced by Big Tech.
Suddenly in America, speaking truth is disallowed. Dissent is stifled. Your fully informed, free medical choices are being taken away through mandatory COVID shots for work and education. Vaccine passports prevent you from even traveling to a growing number of locations.
The implementation of vaccine passports is a huge threat to the freedom of everyone in America. We must say NO TO MANDATORY VACCINE PASSPORTS AND COVID SHOTS!

Candace wasn't alone. Another mother, Kristi Dobbs, a dental hygienist from Webb City, Missouri, also shared. She received the Pfizer shot in January. Since her injection, she has experienced multiple severe side effects, including pain, paresthesia, heart palpitations, swollen lymph nodes, muscle weakness and even seizures.
Within 72 hours of getting the shot, Kristi experienced severe pain and what she described as "internal vibrations."
"It feels like you have this electric shock running through your body, like you're stuck in a vibrating chair," she said. "It never stops."
"I have tremors in my hands, which makes me leery that I will ever practice as a hygienist again," she said. One night, "I had to have my 6-year-old daughter wake me up from a fit in the middle of the night. No 6-year-old should have to do that."
After 411,931 reported adverse events, 23,257 hospitalizations, 2,757 heart attacks, 6,895 deaths and 775 miscarriages, Mayo Clinic still does not list death, paralysis, disabilities, seizures, heart attacks, blood clots, miscarriages or convulsions as potential reactions to these shots. Instead, Mayo says you might have a fever for a couple of days or soreness at the injection site.
When Sen. Johnson brought concerns about vaccine reactions to the head of the National Institutes of Health, he was told, "Well, people die."
I lost a dear friend after she got this shot. I know many others.
The stories of these people need to be heard. We must not pretend all is well. These people are not invisible. My heart aches for them. They want to turn back the clock, but they can't. They didn't know.
Now Joe Biden will be sending government agents to your front door to pressure you to get the shots. This is insane.
More people have died from the COVID shots in six months than all the combined vaccine deaths over the past 31 years! We stopped the failed swine flu vaccine after 53 deaths! Yet, with COVID, there is unprecedented pressure to get the shots and censorship of adverse injuries and deaths.
If we permit our government to force a COVID injection today, it will be significantly harder to block it from mandating any other injection or medical procedure. We must demand freedom to make these personal decisions!

Before we began warning about Vaccine Passports and tracking apps, nothing was being done to push back. After we raised concerns and you raised your voice, 19 states have taken some action. However, there are still too many workers, students and even our men and women in the military who are being coerced or punished for their personal decisions.
Help us fight now with a monthly recurring donation to our organization or a one-time gift today. And DOUBLE the impact of your gift through our Challenge Grant. Support Liberty Counsel Action by selecting here or the button below.

Onward,
Mat Staver, Chairman
Liberty Counsel Action
P.S. Join our extended Challenge Grant to effectively DOUBLE the impact of your donations! Select here to equip our staff to fight this battle for free and fair medical choices.
Send a fax to key leaders demanding they do not mandate a vaccine nor destroy our liberty here in America. And sign our petition to these leaders to be delivered at critical moments in this fight against mandatory vaccinations.
Sources:
Glauber, B. & Fauber, J. (2021, Jun 29). Facing backlash, Ron Johnson defends news conference with five people who said they got side effects from COVID-19 vaccine. Milwaukee Journal Sentinel.
Johnson, R. (2021, Jun 28). **Livestream Link** Sen. Johnson to Hold Press Conference With Families Who Want to Be Seen, Heard and Believed by the Medical Community. Press Release.
Mayo Clinic, (Accessed: 2021, Jul 8). What are the vaccines' side effects?
Open VAERS. (Updated: 2021 Jun 25). Vaccine Adverse Events Reporting System; COVID Vaccine Data. 411,931 Reports.