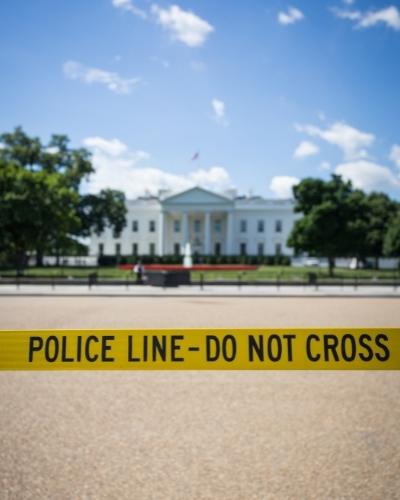 I have been to countries with military checkpoints. And we are familiar with checkpoints at the border, but checkpoints inside the United States? Unthinkable, you say. Not anymore. I will address this below.
My team is frantically working to help as many people as we can to have the freedom to work, go to school and serve our country. In three days alone, we conducted conference calls with over 900 people, and many on the calls represent more people, like the one point person working with more than 1,000 employees of a major airline.
When you give to our ministry, you help us help people! —Mat
Give to LCA today to help stop this injustice.

White House staff let slip that inside their offices, they were weighing the idea of "mandating vaccines for interstate travel," according to the Associated Press. In other words, they want to check your medical papers before you travel to the state next door!
Checkpoints inside America bring us one step closer to Marxism and tyranny. The White House should NEVER have the power to decide what medical procedures you must undergo before you cross a state line. Remember what we said in a prior email, "Papers, please!" And you thought that could never happen. Not in America. Well, it will if we remain silent.
What is unfolding is bigger than COVID and the shots. It is about freedom and control. Once lost, freedom is very hard to regain. We need your help to stop this evil. We need help to help people.
Give to LCA to help stop this injustice.
On these forced injections, a White House spokesman said their department is simply waiting to push "the right lever at the right time" ... whenever they think you are ready to submit to the next mandate.
The White House source said our love of freedom was the only reason it has "held off." This spokesman said Biden is working to "make life more uncomfortable for the unvaccinated without spurring a backlash in a deeply polarized country." Even Arnold Schwarzenegger said, "Scr*w your freedom."
That's right, you and millions of other Americans who love freedom are now the problem. Sounds a lot like Marxism. This is the most serious threat to freedom!
Help us help those whose freedom is threatened!
No other injections are even close to the damage caused by these COVID shots! The deaths after these jabs stand at 12,366, according to the latest update available (July 30, 2021). And there are more than 545,337 reported adverse reactions to the shots. To put this number in perspective, if you counted each reaction as just one minute, it would take more than 9,000 hours to count everyone! And that's just a tiny fraction of the actual numbers, of which 99% of them go unreported.
You must always have the freedom to accept or reject these shots! NO ONE SHOULD BE FORCED.
Israel just released statistics about the plummeting effectiveness of these COVID injections. For those who got jabbed in January, that jab now only gives a 16% reduction in their likelihood of getting COVID.
In addition, a new study indicates that getting injected could have zero impact to reduce a person's likelihood of contracting the upcoming Lambda variant of COVID. So, in the very immediate future, this jab could do nothing to protect anyone.
In fact, the data is now showing that those who have the shots may develop "vaccine enhanced disease," which means you are more susceptible to variants, and the variants can be more deadly. The FDA knew this back in October 2020. We have the FDA presentation to prove it.
At the same time, there are nearly endless, bizarre reactions happening from the shots.
For one woman, her "entire upper body swelled and two front ribs popped out." It took four months of medical care just to fix the bone structure of her body after this jab!

"Within 2 minutes of receiving the J&J, I could feel it in my veins like hot thick oil. My right wrist felt like a BB rolling around in it. The pain was so excruciating I didn't think I was going to make it through the week."

Another shared that she "developed pins and needles throughout [her] body." She "developed issues with [her] vision and balance" and feels "pressure in [her] head and neck that moves around throughout the day. ... It's been 4 months since my symptoms have started, and I have no answers on what is going on or how to treat it."
My heart breaks for every person whose life has been drastically altered or even ended by these shots. I WILL NOT BE SILENT WHEN PEOPLE ARE FORCED TO INJECT THESE EXPERIMENTAL AND RISKY SUBSTANCES.
Late Friday, one person called and said, "You are a beacon of hope." We can only be that beacon because of your support.
Help us be a beacon of hope for many desperate and scared people.
Another thing you can do: Send faxes to state and federal lawmakers. Say NO TO MANDATORY COVID SHOTS AND VACCINE PASSPORTS!

I cannot adequately express the overwhelming gratitude we are hearing from the thousands of people we are helping!
Thank you!
Mat Staver, Chairman
Liberty Counsel Action


P.S. Join our extended Challenge Grant to effectively DOUBLE the impact of your donations! Select here to equip our staff to fight this battle for free and fair medical choices.
P.P.S. Send faxes to key leaders demanding NO MANDATORY SHOTS OR VACCINE PASSPORTS. And then sign our petition.



---
Sources:
"Health Ministry Says COVID Vaccine Is Only 40% Effective at Halting Transmission." 2021 Www.timesofisrael.com. July 22, 2021. Timesofisrael.com/liveblog_entry/health-ministry-says-covid-vaccine-is-only-40-effective-at-halting-transmission/.
Husebø, Wendell. 2021. "Joe Biden Weighs Mandating Vaccines for Interstate Travel." Breitbart. August 13, 2021. Breitbart.com/politics/2021/08/13/joe-biden-vaccines-interstate-travel/.
Miller, Zeke. 2021."Biden Eyes Tougher Vaccine Rules without Provoking Backlash." AP NEWS. August 13, 2021. Apnews.com/article/lifestyle-joe-biden-business-health-travel-caae4c9b16be16c4ad43500fb240b801.
‌Sparks, Hannah. 2021. "Deadly Lambda Variant Could Be Neutralizing Vaccines, New Study Says." New York Post. August 12, 2021. Nypost.com/2021/08/12/deadly-lambda-covid-19-variant-could-be-vaccine-resistant/.‌
"The OpenVAERS Project." 2021. The OpenVAERS Project. Accessed August 13, 2021. Openvaers.com/covid-data.