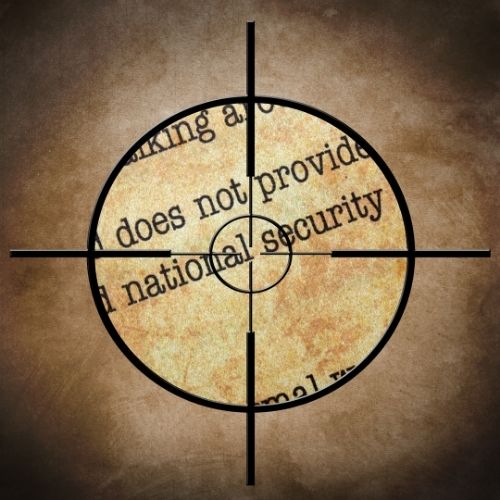 One defense contract company sent out an announcement. Anyone who wasn't injected had just two days to get the first COVID jab—if they wanted to keep their job. Reaching out for help, this employee wrote, "Since I will not take the vaccine, I will lose my job."
This is one of an overwhelming number of pleas for help from people under intense pressure with a shot deadline. They face these life-altering decisions that could result in either death or the end of their careers. People are being forced to choose between earning money for food and their faith. However, it doesn't end there.
These forced COVID shots are pushing our nation toward a national security crisis by disrupting the workforce, including our military and federal defense contractors. These civilian employees are in highly trained, specialized roles, and they are begging for help! These civilian contractors provide EVERYTHING for the military to defend our freedom.
One employee said, "I will no longer be able to work for BAE Systems unless I am fully vaccinated."
Another simply pleaded, "I need help."
The Biden shot mandate is tearing apart the country, causing shortages in health care, education, law enforcement, transportation, food—you name it—these mandates are a disaster.
The military is being attacked on the inside and the outside. This double whammy is creating a national security emergency!
We have never experienced anything like this in the history of our ministry. Help us help these desperate people through supporting our Challenge Grant, which will DOUBLE the impact of your gift. —Mat

It is hard to communicate the extent of damage these mandates are causing and will cause if not stopped.
Consider BAE Systems, which sells fighter jets, tanks and armored cars, precision guidance missiles, countermeasure technology, camouflage, systems disruption, mine neutralization equipment, parachutes, vehicles seats that protect from IEDs, munitions, computer chips, etc. And this is just a fraction of what they supply to our military.
Tens of thousands of people are begging for help. On our daily conference calls, hundreds are participating, and over 700 people were on the call last night. Several called in more than an hour in advance because they are so desperate!
One asked, "Do I just need to comply"?

"I would like guidance. … I need to make a very strong case."

Another wants to explore a class action lawsuit.

Another wants help to "fight this unlawful mandate. Many other employees are in this same situation."
Biden's mandate is purging the military of people of faith who love this country and have sacrificed everything for our freedom. The mandate on civilian contractors is an attack outside of the military that also threatens national security. Everything from the shoes service members wear to the world's most advanced stealth fighter jet, the F-35—EVERYTHING is created and supplied to the military by these civilian contractors.
Of course, the 3.7 million civilian contractors include more than those working with the military.
BIDEN'S SHOT MANDATE IS CREATING A NATIONAL EMERGENCY. WE WILL NOT ALLOW THESE MANDATES TO GO UNCHALLENGED.
Liberty Counsel Action has been providing resources to support a massive federal class action lawsuit against Joe Biden on behalf of the military, federal employees and civilian contractors.
We need your help to help these desperate people. Our Challenge Grant will DOUBLE each gift. You are helping to save lives!
These mandates will cost you dearly.
If one service member does not reenlist, there is a huge cost to train that person's replacement. A basic fighter pilot's training cost "ranges from $5.6 million for an F 16 pilot to $10.9 million for an F 22 pilot. Bomber pilot training cost is also high, ranging from $7.3 million for a B 1 pilot to $9.7 million for a B 52 pilot."
If we can get a religious exemption approved for a B-52 bomber pilot, we can avoid a cost to taxpayers of nearly 10 million dollars! But as staggering as the cost is, this is a matter of national security.
The financial cost is nothing compared to the emotional toll on our service members. They are being bullied and ordered to get these jabs or face dishonorable discharge.
Help us help these heroes who sacrifice for us each day. DOUBLE the impact of your donation by our Challenge Grant.
A 28-year-old service member got a Pfizer jab. The result was catastrophic; "Within a few minutes of getting my jab, I had a horrible pounding headache at the base of my neck/head. … That headache stayed for a week or two. On day two, I woke up with a swollen, red, painful left eye ... the pain continued.
"I lost vision in my left eye. I lost peripheral vision and couldn't see below my eye. And it was extremely blurry ... it spread to my right eye. … My eye pressure went from 13 to 27. My vision went from 20/20 to 20/50. The pain continues in both eyes to this day. … My neuro ophthalmologist and retina specialist told me they see patients all the time with eye problems after vaccine. I suffer to this day. Every day is a challenge."
Help us defend the defenders of freedom and avert a national security crisis. You can help by signing up to give monthly recurring donations or a one-time gift that our Challenge Grant will DOUBLE.
Mat Staver, Chairman
Liberty Counsel Action


---
Sources:
K.R. - Kentucky. 2021. "Real Testimonials." C19 VAX REACTIONS. July 8, 2021. C19vaxreactions.com/real-testimonials.html.
Mattock, Michael G., Beth J. Asch, James Hosek, and Michael Boito. 2019. "The Relative Cost-Effectiveness of Retaining versus Accessing Air Force Pilots": RAND. 2019. Rand.org/pubs/research_reports/RR2415.html.
"Resources & Research." Liberty Counsel, 2021. LC.org/vaccine.