Airline employees are begging for help to avoid the COVID jabs. The same week Southwest Airlines announced the shot mandates, it had mass cancellations from a shortage of staff protesting these forced injections (which both Southwest Airlines and the White House tried to cover up).
A husband and wife who both work for Southwest say they "would like to continue to work, but without this vaccine." They now face termination and are confronting the potential

loss of both of their incomes, just before Christmas

.

A Southwest pilot wrote us, "I am being threatened by termination if I do not comply with vaccine mandate."

Another Southwest employee asked for our help: "I am now faced with the choice of providing for my family or taking part in this experiment. How can this be stopped?"
Another Southwest employee told us he wants help fighting against the "order to force me to take a shot I refuse to take."

And there are many more requests from airline staff alone in the past few weeks! I have been helping a consortium of more than 19,000 airline employees in every passenger and cargo airline, and I'll have a meeting with them shortly!
The class action lawsuit for which Liberty Counsel Action has provided critical research is being filed this week on behalf of military members, federal employees and federal civilian contractors. I will share more about this massive lawsuit in a future email.
Help us bring hope to those facing these shot mandates through our Challenge Grant that will DOUBLE the impact of your gift. —Mat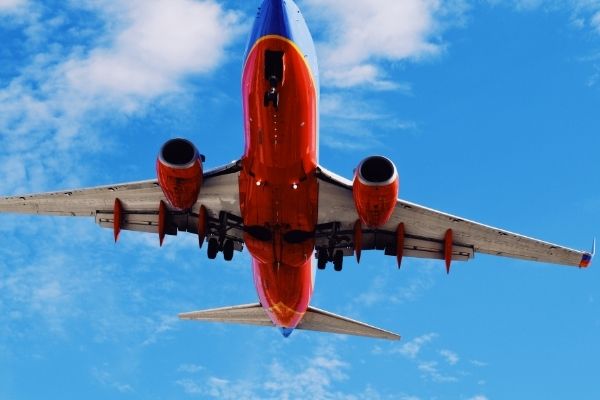 Southwest Airlines is headquartered in Texas where Gov. Greg Abbott banned "any entity" from forcing an unwanted injection as a condition of employment. So, Southwest's mandate is now in defiance of that order.
The "official story" from Southwest about the 2,400 flights canceled over three days was "disruptive weather" in Florida. If a flight is canceled because of the weather, the airline does not have to refund the passenger.
Even the White House backed the "official" story denying any relationship between the cancellations and the mandate saying, "Those claims were absolutely false, and actually, the issue was clearly unrelated to vaccine mandates."
But in reality, Southwest pilots and other employees are fighting back. Southwest was forced to revise its story and admit that "limited staffing" contributed to these thousands of cancellations.
There are few occupations where there is zero room for error—health care, military members and nuclear construction, to name a few. However, for airline employees, especially pilots, distraction and stress increase the number of flight safety incidents. NOT welcome news for passengers.
Airline employees can shut down the country, and many Southwest employees are warning the airline not to cross the red line. This is a taste of what traveling for Christmas will look like if these mandates continue.
We are committed to helping these desperate people fight for freedom, but we cannot do it alone! Your gift today helps us fight for freedom.
After the COVID injections were released to the population, the number of "deaths due to 'abnormal clinical findings not elsewhere classified' have increased exponentially compared to pre-Covid-19 vaccination levels," according to a recent review of the data.
A very similar graph between the number of people injected and the number of people with "abnormal" deaths suggests that "the experimental Covid-19 injections are the cause of a 600% increase in abnormal death."
But that is not all. Right now, Vermont has the highest COVID injection rates in America; 70% are fully injected.
However, Vermont Health Department statistics reveal that 76% of deaths from COVID in Vermont were in "fully vaccinated" people. This is a HIGHER rate among the "fully vaccinated" dying from COVID and a lower death rate among those not jabbed.
Now Vermont is at "High Transmission" rate. September was the state's second deadliest month from hospitalized cases. By Oct. 1, new COVID-19 deaths increased by 85% over the previous week, and for the week of Oct. 8, the number of new cases was holding steady.
This data shows that the COVID shots are NOT WORKING!
The CDC was forced to admit that the jab didn't stop people from getting COVID, and the agency quickly shut down all tracking of breakthrough cases. Then the CDC was forced to admit the shot didn't stop the spread of the virus. Now the jab is not even decreasing deaths from COVID … and we haven't even hit the winter season yet!
We are fighting for these Americans. Help us help millions of people. We need to stop this evil. Give to LCA to stop this injustice.
Another thing you can do: Send faxes to state and federal lawmakers. Say NO TO MANDATORY COVID SHOTS AND VACCINE PASSPORTS!
Thank you!
Mat Staver, Chairman
Liberty Counsel Action


P.S. Send faxes to key leaders demanding NO MANDATORY SHOTS OR VACCINE PASSPORTS. And then sign our petition.



---


Sources:
Agence France Presse. n.d. "Southwest Says Staffing Shortages Contributed to Flight Snarls." barrons.com. Accessed October 13, 2021. Barrons.com/news/southwest-says-staffing-shortages-contributed-to-flight-snarls-01633992007.
"COVID-19 State Profile Report - Vermont | HealthData.gov."2021. Healthdata.gov. Healthdata.gov/Community/COVID-19-State-Profile-Report-Vermont/caha-cjqa.
Page, Guy. "76% Of September Covid-19 Deaths Are Vax Breakthroughs." Vermont Daily Chronicle. Page Communications, September 30, 2021. vermontdailychronicle.com/2021/09/30/76-of-september-covid-19-deaths-are-vaxxed-breakthroughs/.
The Exposé. 2021. "Investigation: Official CDC Data Shows a Shockingly Large Increase of Deaths due to Abnormal Mystery Causes since Covid-19 Vaccinations Began." The Expose. October 12, 2021. Theexpose.uk/2021/10/12/cdc-data-shows-shocking-increase-deaths-abnormal-mystery-causes-since-covid-vaccinations/.
The Exposé. 2021. "The Most Vaccinated State in the USA Sees Huge Surge in Covid-19 Hospitalisations & Deaths, with 76% of Them among the Fully Vaccinated Population." The Expose. October 9, 2021. Theexpose.uk/2021/10/09/most-vaccinated-state-in-the-usa-sees-huge-surge-in-covid-19-hospitalisations/.
"US Coronavirus Vaccine Tracker." USAFacts, October 9, 2021. Usafacts.org/visualizations/covid-vaccine-tracker-states/.