Heartbreak continues in the face of tyranny. We are assisting on a critical lawsuit in Illinois where the judge is considering opening up this case to be a class action to include all the health care workers in our case. But for many, the rapid pace in the court system is still too slow to save their livelihoods.
One employee of 42 years who reached out to us has already been fired along with "many others" at Southern Illinois Healthcare. These people are pleading with our staff for help.
Emergency requests like these keep pouring in every day, and we are working to help as many people as we can! We need your help to help these people. Your support will be DOUBLED by our Challenge Grant. — Mat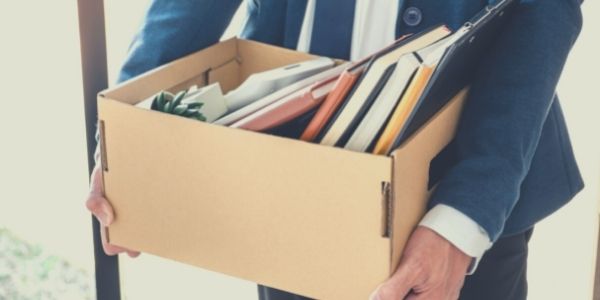 The amount of Soviet-style lies never ceases to amaze me. Right now, Southern Illinois Healthcare (SIH) claims it will "require COVID-19 vaccination for all team members, unless granted medical or religious exemption as a condition of employment."
But what the SIH website doesn't explain is that it is categorically denying religious exemptions.
Among many working for SIH, Susan* wrote us saying she had lost her job. "I am 60 years old and have worked there for 42 years. My sincere religious and moral exemptions were both denied, and no reasonable accommodation was approved for me. They [SIH] are saying because we didn't comply with their newly revised policy to include the Covid-19 vaccine as a condition of our employment that we voluntarily resigned without proper notice."
SIH's second lie prevents those fired from receiving unemployment benefits.
Before Susan was fired, she shared, "I was made to wear the N95 [mask] with a procedure mask over it and go for weekly testing." She said, "I offered to continue to comply … and was denied."
Even double masking was not enough to overcome SIH's antireligious bigotry against its own employees.
Now, SIH is scrambling to fill these openings. Its website states, "We are actively recruiting … for openings across our system." SIH is trying to fill more than 600 job openings right now!
The massive number of openings and antireligious bias at SIH is gravely concerning for those in the Midwest who rely on SIH for its medical care and/or employment.
We are assisting directly with efforts to stop this forced medical procedure both publicly and privately. When you support our efforts, you help us fight for people like Susan and others standing with her. Our Challenge Grant will DOUBLE your gift and help us STOP THE MANDATES.
Problems caused by injection mandates are not just happening inside the hospital. There are also many problems and pressures happening outside these hospitals that negatively affect medical care.
One of my staff members was scheduled for surgery this week, but the surgery was delayed an entire day because the operating doctor had traveled by plane over the weekend and his return flight was canceled. Nothing else was available for him to return to work until the following day to perform this scheduled surgery!
Thousands of these canceled flights have been attributed by flight staff staying home or being let go because some airlines refuse to accommodate the religious convictions of their employees. Now, this battle in the skies is affecting—among many other things—care inside medical operating rooms!
Whether you are in the air or under anesthesia, these shot mandates are disrupting safety and service all across our nation. Our staff is frantically working to roll back these forced medical mandates and the chaos they are causing. We are assisting on a number of critically important cases right now. When you give today, you support this fight for freedom.
Some might wonder if fighting this mandatory shot is worth it? Let me share how critical it is—even beyond the importance of defending freedom.
Earlier this month, one school system in Michigan gave its staff a COVID booster injection. The local news reported that "a district spokesperson told ABC12 News that a large number of staff members had negative reactions to the COVID-19 booster that they received over the weekend."
Nearly 80% of those injected had a localized reaction to the injection. In fact, "among 12,500 people who received a third dose of the COVID-19 vaccine … 74% reported the systemic reactions" to the shot. This means that 9,250 people had full body reactions to these injections!
These reactions were so severe that on Monday, the entire school had to close because such a high number of the staff were unable to come to work after their injection!
These injections have led to the deaths of 18,461 people and more than 875,651 adverse reactions. Those numbers, however, do not include any of the new 9,250 new adverse reactions experienced in just in this one school district's staff over one weekend!
A neighboring school district, Swan Valley School District, also had to close a few days prior. This was also described as a "staffing shortage."
These mandates threaten life and liberty in a way we have never seen! Fight these MANDATORY SHOTS and VACCINE PASSPORTS by standing with Liberty Counsel Action today.

We cannot submit our health and life to the government or a CEO.
The mandates are not about public health. They're about control. It began with the "two weeks to flatten the curve." Then the lockdowns. Then the initial COVID shots. Then a booster. Next will be another booster. Then other shots. Without the Digital Passport, you will not be able to work, eat in restaurants, shop, gather in public places or travel.
Since April 2020, I warned this day was coming under the guise of COVID.
HELP US STOP THE MANDATES!
You can also send your faxes demanding NO MANDATORY COVID SHOTS OR VACCINE PASSPORTS to key leaders! Select here or the button below.

Your prayers are deeply appreciated.
Mat Staver, Chairman
Liberty Counsel Action
P.S. Help us help these precious people and STOP THE SHOT MANDATES with your gift that will be effectively DOUBLED by our Challenge Grant.
And if you haven't already, send urgent faxes to key leaders today. Then sign the petition to demand NO MANDATORY COVID SHOTS OR VACCINE PASSPORTS.

Sources:
Bullion, Mark. 2021. "Saginaw Township Schools Closed Monday because of Staffing Shortage, Will Reopen Tuesday." ABC 12. November 8, 2021. Abc12.com/2021/11/08/saginaw-township-schools-closed-monday-because-staffing-shortage-will-reopen-tuesday/.
OpenVAERS. 2021. "VAERS COVID Vaccine Adverse Event Reports." Accessed November 8, 2021. Openvaers.com/covid-data/reproductive-health.
"Resources & Research: COVID Vaccine." Liberty Counsel Action, 2021. Lcaction.org/vaccine.
"Swan Valley School District Live Feed: The Swan Valley School District will be closed on Thursday, November 4th due to a staffing shortage." 2021. Swan Valley Schools. Accessed November 16, 2021. Swanvalleyschools.com/live-feed.