As we give thanks to God for life and liberty and enjoy this Thanksgiving Day, national media continues to promote the COVID-19 shot as a panacea to end the pandemic. But the facts are much different.
Doctors, nurses, pharmacists, caregivers and other health care workers facing mandatory injections are frantically calling us for help because they have seen firsthand what these shots can and cannot do.
No matter what you decide, it is your choice. The stories we hear every day are insane. You want to cry and be angry at the same time. What we are facing is bigger than COVID or these shots—it is about FREEDOM! Once lost, personal liberty is very difficult to regain.
We need your help to support the legal fight for freedom. Thanks to a special Challenge Grant, YOUR impact will be DOUBLED! Select here or the button below to FUND THE FIGHT FOR FREEDOM. —Mat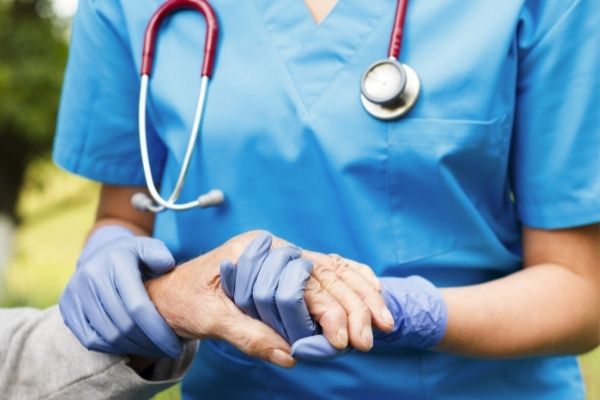 A caregiver in Massachusetts serves elderly clients, some at home and others in residential facilities. When the COVID shots were first issued, seniors were among the first to get them. But in observing her clients and their families, this caregiver, Helen*, changed her view.
The daughter of one of her clients took the shots to "put an end to the pandemic." In her 50s, she was healthy and active, but in just a short time, her health went dramatically downhill.
"Within a week of taking it, she experienced inflammation of the heart," Helen writes. "She was hospitalized for several days. ... She still has to take meds because of heart damage."
Then there was the mother, Helen's client, who had significant health issues but was still "usually upbeat" and had "good days" in which she even taught Helen how to sew. But then, Helen writes, this happened:
"After her 2nd shot, the other caregivers and I noticed a rapid decline in cognitive health. We were scrambling to make sense: Did she have sudden onset of full Alzheimer's? Most symptoms were similar but not exactly. She declined to the point of hardly being able to walk, not able to talk very well, being aggressive, inability to feed or eat (When prompted to eat, she might eat the napkin or bib instead)."
Helen's client died, and her life was cut short after she got the shot.
Now, Helen will not take the shots, even if she is terminated.
"I refuse to take the vaccines that are being offered," she writes. Why would she? Millions of health care workers have witnessed similar adverse reactions and deaths from these shots.
These heroes are now forced to inject their bodies with an experimental substance or be fired. THIS IS NOT RIGHT.
There are many Helens across the country. Help Liberty Counsel defend these health care workers' FREEDOM TO CHOOSE.
Nellie* in Oregon is a medical technician who worked with COVID-positive residents. She took a two-dose mRNA shot.
"In January and February, I had my Pfizer vaccine as part of the essential worker push," she writes.
But the second shot led to some very unpleasant symptoms, including headaches, body pain, tingling, shortness of breath, extreme fatigue and severe brain fog—all of which led to the loss of her income.
severe brain fog—all of which led to the loss of her income.
"I had to resign from my job as it became apparent I could not function as I normally had done," Nellie writes. "I am now working very limited hours on light duty as a caregiver, and even this is very difficult."
Desperate requests from health care workers (and others) flood our office. We are literally overwhelmed and frantically working with legal triage. I also wish you could hear the relief we hear every day from people we are helping! Help us continue to defend free choice! Select here.
The explosion of people being forced to inject this substance is deeply disturbing. This should not be happening in America.
And all for what? Now Mayo Clinic says the COVID shots are not very effective. That is what we have been saying. We told you so months ago.
Not only are these shots not effective, they are also not safe! Indeed, the data now shows they are causing "vaccine enhanced disease," which means you become more susceptible to variants, and the variants are more deadly than if you had not received the shots! The FDA knew this would happen as far back as October 2020. We have the FDA presentation on our website.
We are working to assist more than 35,000 employees working in transportation covering cargo and passenger airlines, rail and trucking. In three days alone, we did conference calls with several thousand people. And this is just the tip of the iceberg.
People are PLEADING FOR HELP! Please, help us help more people.
Here are just a couple of these heartfelt requests for help:
"I have a 21-year-old female member who does not want the vaccination because there is not enough testing done to prove it won't affect her fertility!"

"Are you able to help with military being forced to take the vaccine? So many of us are desperate. Our jobs and livelihoods are on the line, and we are running out of time! They are making religious exemptions near impossible and denying them left and right!"
The volume of calls and emails is the greatest in our history. As we stand with heroes and other precious people, please stand with us and help defend freedom today!
There's one more thing you can do. Fax governors and Congress. NO MANDATORY COVID SHOTS OR VACCINE PASSPORTS! Select here.
Our nation still has more freedom than many other nations, and it is fitting to pause and be grateful as we continue to defend liberty. The entire team wishes you a Happy Thanksgiving Day!
Mat Staver, Chairman
Liberty Counsel Action
P.S. Don't forget to fax state and federal lawmakers to say NO MANDATORY COVID SHOTS OR VACCINE PASSPORTS.
And sign our petition.
*Names changed to protect privacy.
---
Sources:
Aripaka, Pushkala. "EU Looking into New Possible Side-Effects of MRNA COVID-19 Shots." Reuters, August 11, 2021. reuters.com/business/healthcare-pharmaceuticals/eu-drugs-regulator-looking-new-possible-side-effects-mrna-vaccines-2021-08-11/.
"C19 Vax Reactions," 2021. c19vaxreactions.com.
Nelson, Joe, and Adam Uren. "Mayo Clinic: Don't Jump to Conclusions about Vaccine Effectiveness Study." Bring Me the News, August 12, 2021. bringmethenews.com/minnesota-news/mayo-clinic-dont-jump-to-conclusions-about-vaccine-effectiveness-study.
"Resources & Research." Liberty Counsel Action, 2021. LCAction.org/vaccine.