Just like I warned, Sen. Chuck Schumer (D-NY) is now focused on abolishing the filibuster.
Schumer and his extreme base know their entire agenda depends on destroying the filibuster! Already they are working on a coalition of the following groups: LGBTQ, election fraud advocates, socialist-Marxists, pro-abortionists and more. The impending midterm election is causing a panic.
The anger directed against six Supreme Court Justices is now turning against the senators to pressure the abortion vote and the abolition of the filibuster.
These senators need to hear from you. Fax as many senators as possible with your urgent demands to stop the abortion bills and destruction of the filibuster. —Mat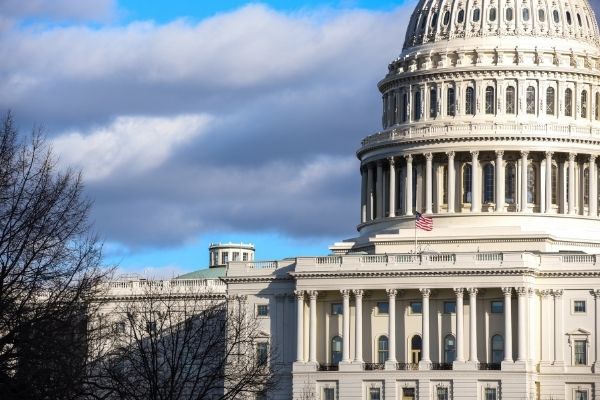 More than 70 organizations are banning together to destroy the filibuster. The result would be disastrous. The coalition includes NARAL Pro-Choice America, Women's March, Physicians for Reproductive Health and many more.
The coalition states, "Now is the time to fight like hell..."
These groups know exactly what is at stake ... everything!
Eliminating the filibuster is incredibly dangerous for three reasons.
First, abortion will be forced in all 50 states. Every day children are killed by abortion. This cannot continue. America will not continue!
Second, every other radical bill we have stopped thus far will pass, including the LGBTQ bill imposed even on churches and private schools, election fraud-enabling bills, Build Back Better and other socialism bills, COVID mandates and more.
Third, even if Schumer and Pelosi lose power following the midterm election, the new Congress will not be seated until January 2023, and even then, Joe Biden will veto any effort to repeal these bad bills. It takes two-thirds vote of each chamber to override a veto, and even with a change of power, there will not be enough votes. The longer these bills are in place, the prospects of repeal become harder.
The senators are facing incredible pressure. They must CONTINUALLY hear from you. Even if you have sent faxes, please do so again. Send faxes to as many senators as possible to demand they stop the abortion bills and preserve the filibuster.
Every child is valuable. Each one has a story … if these children are allowed to live. Rebecca Kiessling is a beautiful woman who was conceived as a result of a brutal rape. Her mother tried several times to get an abortion, but, in part because it was illegal, she gave up and gave birth to Rebecca. Her life story is incredible, but it was almost ended before she was born.
My father raped my sister. My sister chose life. My beautiful niece is now a mother who gave birth to her daughter. I have two generations in my family from my father's terrible sin of rape and incest. While that event was traumatic, life always triumphs over death. Abortion does not solve a problem. It magnifies it and it continues for generations.
Life is powerful. But there are now more than 63 million babies who were never given the chance. We must not allow the continued killing of children.
Send your urgent faxes to the senators demanding they stand against abortion and preserve the filibuster.
On Capitol Hill, two Democrat senators had stopped the destruction of the filibuster (the 60-vote requirement for a bill to pass the Senate). However, both want to keep abortion mandatory at the federal level (Sens. Manchin and Sinema). The only question remaining is ... which of these senators' competing goals is more important to them?
Plus, two pro-abortion Republicans have co-sponsored an abortion bill (Sens. Collins and Murkowski). Their bill would continue abortions up to the moment of birth in all 50 states and U.S. territories.
If only two of these four senators cave and support the "nuclear option" to erase the filibuster, they will pass the abortion bill along with the LGBTQ bill, election fraud-enabling bill, COVID mandates, socialism and much more.
The senators are facing an angry, violent mob with nearly unlimited cash pushing them to destroy the filibuster. They need to hear from you right now too! Send your urgent faxes to members of the Senate to protect the filibuster and protect these children.
Yesterday, the United States Supreme Court Justices met for the first time after the leaked draft opinion of their upcoming ruling. Pray for them, for their safety and their strength to continue to do the right thing.
Every day there are new attacks and opportunities to fight for life, freedom and the family. My whole staff knows the lives of children are at stake right now.
We hope you will join us by DOUBLING THE IMPACT of your gift through our Challenge Grant and help our mission by signing up for recurring monthly donations to help end this bloody chapter of abortion now.

We cannot give up on preborn and future Americans. Their lives depend on our actions now.
Mat Staver, Chairman
Liberty Counsel Action


P.S. Stand up for the millions of children who deserve the chance to live. Sign a petition to demand the Senate block these abortion bills and preserve the filibuster.



---
Sources:
"Fix Our Senate." Fix Our Senate. Accessed May 12, 2022. Fixoursenate.org.‌
MacFarlane, Scott. "GOP Senators Susan Collins and Lisa Murkowski, Who Support Abortion Rights, Dismayed by Draft Opinion on Roe v. Wade." CBS News, May 4, 2022. Cbsnews.com/news/roe-v-wade-supreme-court-abortion-access-advocates-susan-collins-lisa-murkowski/.
"Pregnant from Rape at 11, My Mother Rejected Abortion." Live Action: YouTube. February 4, 2020. Youtube.com/watch?v=ZkV0T-hTmXs.
"Rebecca Kiessling, Spokesperson for the Hard Cases." YouTube: Conceived in Rape, December 29, 2013. https://www.youtube.com/watch?v=-QicoFh3Vu4.
Reynolds, Molly E. "What Is the Senate Filibuster, and What Would It Take to Eliminate It?" Brookings Institute, October 15, 2019. Brookings.edu/policy2020/votervital/what-is-the-senate-filibuster-and-what-would-it-take-to-eliminate-it/.
Vagianos, Alanna. "Reproductive Rights Groups Plot Next Moves After Bill To Codify Roe Fails." HuffPost, May 12, 2022. Huffpost.com/entry/fix-our-senate-codify-roe-abortion_n_627d029fe4b06ce0a1b303d9.