We recently got out of a high-level meeting that confirmed the Senate can vote on the so-called "Respect for Marriage Act" AT ANY TIME. It is almost guaranteed that there will be a floor vote soon, and it is likely—if it doesn't pass the first time—they will plan to push this bill with several floor votes!
Every senator will have to go on record on their position on HR 8404.
We just learned that some of the House Republicans who supported this bill already regret their vote. We have a narrow window to educate our senators so they do not make the same mistake.
Every senator must hear from you. WE NEED YOUR VOICE to send a strong message NOW because Schumer is pushing for a vote ASAP. STOP HR 8404 from becoming law with your urgent faxes to the Senate. — Mat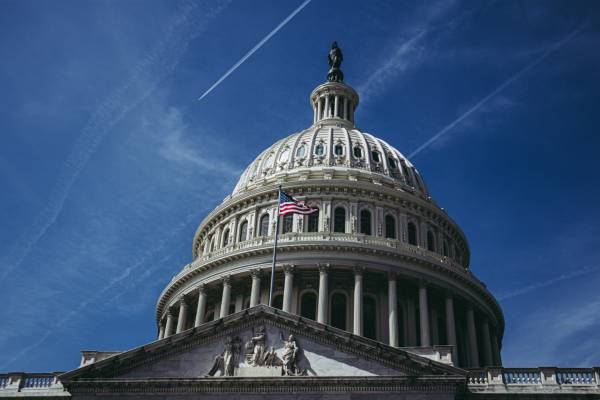 Today, our staff's mission is to see if we can change the minds of key senators and provide timely information to them about HR 8404.
Soon after Obergefell v. Hodges was released, an entire section of the Republican Party platform was changed to specifically condemn this ruling. Now, some Republicans are rushing to codify language that is much worse!
The Republican Party platform reads:
"Traditional marriage and family, based on marriage between one man and one woman, is the foundation for a free society and has for millennia been entrusted with rearing children and instilling cultural values. … We also condemn the Supreme Court's lawless ruling in Obergefell v. Hodges, which in the words of the late Justice Antonin Scalia, was a 'judicial Putsch' [coup] — full of 'silly extravagances' … In Obergefell, five unelected lawyers robbed 320 million Americans of their legitimate constitutional authority to define marriage as the union of one man and one woman. The Court twisted the meaning of the Fourteenth Amendment beyond recognition. To echo Scalia, we dissent. We, therefore, support the appointment of justices and judges who respect the constitutional limits on their power … "
All of the Republican senators in power now were elected at or after this party platform was published. I'm tired of politicians changing their minds. We must hold them accountable.
We need you to make your voice heard up and down the halls of Congress with your faxes directly to these senators. Help tell these senators that this will punish and/or silence the voices of people of faith and do so much more. Send faxes immediately to help fight this outrageous bill.
We already know what this bill will do. It will put people in jail for living out their faith. That is what Obergefell did to Kentucky Clerk Kim Davis!
I visited Kim after she was sent to jail because of her faith. Justice Samuel Alito warned in his dissent that Obergefell would be used to persecute people of faith. HR 8404 is even worse than this 5-4 lawless opinion.
I will never forget the moment I saw Kim dressed in orange prison garb. That was a chilling, emotional moment.
The new governor and then the Kentucky legislature provided a religious accommodation.
But HR 8404 will erase ALL of those exemptions!
This law will target not just people of faith who oppose same sex marriage, but also anyone who opposes child brides, or any other bizarre definition of marriage from any "state, territory or possession."
Mark my word, Obergefell will be overruled, but this federal bill will jerk away all states' ability to define marriage within their boundaries permanently.
And it will erase ALL religious freedom exemptions for those "acting under the color of law."
And if this bill is allowed to pass, Kim Davis' time in jail will be just the first of many targeted by this bill! We must stop HR 8404 now.
Sen. Chuck Schumer (D-NY) has invoked Rule 14, which means he can rush the bill to the floor without a Senate hearing. Send your urgent faxes to the U.S. Senate today to oppose this outrageous bill.
Our team is on the front lines in D.C. reaching out to senators and their staff. We are educating everyone who will listen about this terrible bill.
Republican leadership is weak on this issue, so our team has stepped into that void. We are counting votes and speaking with as many senators and their staff as possible in the short time before this vote happens. They need to know how this will be used to attack people of faith in America.
We cannot do this alone. Your support and your gifts are what enable us to be there right now fighting to block this and many other bills (like the gun control bill being voted on later this week).
We rely 100% on the support of people like you for every single expense. Because of this, our policy and legal analysis on Capitol Hill is free to everyone.
Please be in prayer for our country and for us. And please prayerfully consider supporting Liberty Counsel Action. A generous Challenge Grant will effectively DOUBLE the impact of your donation today.

Mat Staver, Chairman
Liberty Counsel Action
P.S. Sign our vital petition.


---

Sources:
"H.R. 8404—Respect for Marriage Act." 2022. House of Representatives Committee on Rules. July 18, 2022. Rules.house.gov/bill/117/hr-8404.
"Kim Davis Requests Full Court Review for Qualified Immunity." Liberty Counsel, July 15, 2022. Lc.org/newsroom/details/071522-kim-davis-requests-full-court-review-for-qualified-immunity.
"Republican Platform 2016." Republican National Committee. Accessed July 27, 2022. Prod-cdn-static.gop.com/media/documents/Platform-Resolution-Final_1485290692.pdf.