I promised to give you a way to catch and successfully prosecute voting machine fraud, which I'll share below. It is a year-round effort to successfully fight for election integrity. Right now, most state legislators are considering what bills they will sponsor in the new year. We need to get good bills in front of them, answer objections, help them gain consensus across as many states as possible and prepare people to testify to support election integrity.
We have the best shot at accomplishing this now before the state sessions begin. But it will take a lot of work since each state is different. However, we have a vast network of legislators.
One of the best ways to cut down on the opportunity for fraud is to eliminate mail-in ballots. These are vulnerable for abuse. We can restore a system of integrity, but we must work for it, pick the lowest-hanging fruit and fight the battles that will have the biggest impact.
The U.S. House will have a new Republican majority. Urge them and state leaders to investigate election irregularities and end mail-in ballots. We must protect the votes of people from mail-in ballots that are ripe for fraud. — Mat
People, not papers, must decide our elections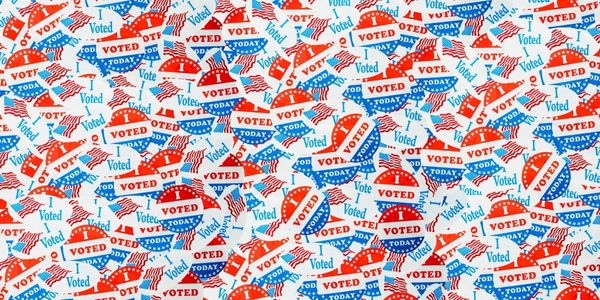 When you compare America's election system to even the most volatile and unstable nations, our election security is barely a shadow of what other nations provide their citizens. Take Afghanistan for example. It is a war-torn, terrorist-laced nation that has been at the center of ongoing conflict.
"After the 2014 registration, the voter roll stood at twenty-three million. Yet only half of Afghanistan's thirty million people are of voting age," according to a report on Afghanistan before voting reforms were implemented. This means there were 8 million more registered voters than the 15 million that were physically possible!
So, Americans stepped in to help launch a new system in Afghanistan. Each voter was required to provide fingerprints of all 10 fingers that are analyzed and compared before the person can vote. Then they use a digital photograph for comparison for every voter, not to mention the required "purple finger," which is dipped in dye to insure one person, one vote, and which we see in iconic photos.
Democrats supported this heightened level of election security … until the 2020 election.
What does this tell us? There are those with ulterior motives unwilling to apply to America's own voting system what they know works. We must demand it. Voter security reform is a must. We can do it.
I urge you to send a critical fax to as many members in Congress and state leaders to investigate and work to ban mail-in ballots.
But what about electronic ballot machines? To begin with, there must always be a paper trail that accompanies electronic voting to verify the votes and match the hard copy with the electronic version. Each voter should receive a hard copy, and a duplicate verified by the voter should remain in a secure election box. A manual spot check would then be performed after a designated number of votes from each machine to match the hard copy. If a miscount occurs, the problem would be quickly identified. Printers do this all the time to match names on envelopes to the name on the letter. This is not rocket science.
There always should be paper ballots provided in-person after the voter is properly identified. Votes that are only computerized are always hackable if transmitted via the internet, and one never knows if there is a programmed algorithm that changes votes unless there is a verifiable paper ballot to match against the electronic tabulation.
It is undisputable that mail-in ballots are ripe for fraud. Let's finally do something to fix this problem. Curbing mail-in ballots will also stop ballot harvesting. Florida did, and look at the results.
"Twenty years ago, nobody thought Florida was a prime example of how to conduct elections, but we have become a national leader by running the most secure elections in the country," said Governor Ron DeSantis. "We need to do more to ensure our elections remain secure. We have ended ballot harvesting, stopped drop boxes and the mass mailing of ballots, and banned Zuckerbucks, and this bill will give us more resources to make sure bad actors are held accountable."
The biggest threat to honest elections is mail-in ballots, and the easiest, most direct way to secure elections is to stop mail-in ballots and thus stop ballot harvesting. And we must always demand a traceable paper trail to check electronic voting machines.
Fax the U.S. House to investigate our elections and to end all mail-in ballot opportunities for fraud.
Our team has had the privilege to learn from and work with people who have flown all over the world into war-torn countries and those in a bloody civil war to establish secure elections. There is hope.
The same restoration of integrity can happen here in America.
We will fight to secure our elections. We hope you stand with us. With your prayers and support, we will be your voice for change. Please consider becoming a monthly supporter of LC Action or sending a one-time gift today that will be DOUBLED by our Challenge Grant.
"The kings of the earth set themselves, and the rulers take counsel together, against the LORD and against his Anointed … He who sits in the heavens laughs … Ask of me, and I will make the nations your heritage … Blessed are all who take refuge in him" (Ps. 2).
Mat Staver, Chairman
Liberty Counsel Action
P.S. Now is not the time to let up; now is the time to press forward, organize at the state level and urge our national and state leaders to investigate and end mail-in ballots. There is no time to waste. Send faxes today to federal and state leaders.
Select here to DOUBLE YOUR IMPACT. Then sign our petition.

---

Sources:
"Building Confidence in U.S. Elections: Report of the Commission on Federal Election Reform." American Action, September 2005. Americanaction.us/.
"Reducing Voter Fraud in Afghanistan." United States Institute of Peace, November 2, 2017. Usip.org/publications/2017/11/reducing-voter-fraud-afghanistan.