Yesterday the U.S. House passed the "(Dis)Respect for Marriage Act." I want to thank you for speaking up against the bill. Don't get discouraged. I am always thinking several steps ahead. This bill has paved the way for the Supreme Court to overturn the 2015 5-4 opinion in Obergefell v. Hodges and thus return marriage back to the states. These lawmakers have unwittingly created the perfect scenario to fix the mess the Court originally created. I will explain more in a future email.
Today, I want to share about the G20 group of nations (19 countries plus the European Union) that recently agreed to implement global Vaccine Passports under the control of the World Health Organization (WHO). We already know their agenda and what they are pushing—unfettered power and control over every aspect of our lives!
This is a clear danger to freedom everywhere, and the Biden administration is signed on to this freedom-killing scheme! We need to urge the incoming U.S. House majority to act NOW to investigate and to block this global attack on freedom. — Mat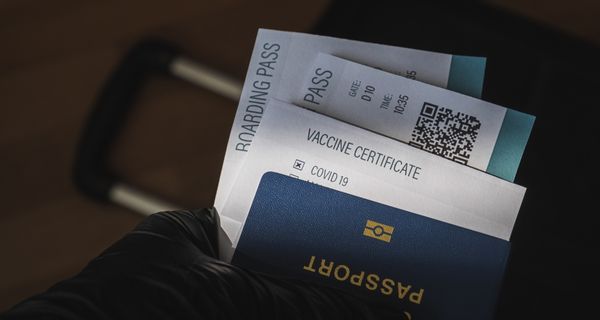 The G20 Summit recently concluded in Bali, Indonesia, where the nation representatives all signed the "Bali Leaders' Declaration" to adopt Vaccine Passports for ALL international travel. This included the United States. This agreement controls two-thirds of the world population and a similar percentage of land mass as well.
This declaration pushes global Vaccine Passports to restrict travel. COVID-19 is being used for a global agenda that has nothing to do with health and safety but everything to do with centralized control.
The declaration states, in part: "We acknowledge the importance of shared technical standards and verification methods, under the framework of the IHR (2005), to facilitate seamless international travel, interoperability, and recognizing digital solutions and non-digital solutions, including proof of vaccinations."
The IHR refers to the World Health Organization's (WHO) International Health Regulations. The WHO's annual meeting will be held in 2023, during which a new "Pandemic Treaty" will again be on the agenda.
Africa already has this "Vaccine Passport" set up under its national equivalent of the U.S. version of the CDC.
Vaccine Passports or digital health passports are a serious threat to life and liberty.
With the new U.S. House of Representatives, we must demand immediate action to remove the U.S. from the Bali Leaders' Declaration, Vaccine Passports and the control and power of the corrupt WHO.
Demand that Congress STOP Joe Biden's administration from giving away our freedom to a WHO-led, one-world government. There is no time to waste!
Remember, last year, we stopped the amendments to the WHO International Health Regulations. The Biden administration tried to amend the IHR to cede U.S. sovereignty to WHO. In a huge—international—victory, those efforts failed.
Now, the same attack on our freedom is back.
In a separate document, the G20 members issued an update that includes the following goal: "Endeavour to move towards interoperability of systems including mechanisms that validate proof of vaccination."
This is a very real threat. Joe Biden himself traveled to Bali and spent three days pushing this global threat to freedom. Then the Biden administration posted the declaration on the White House website.
We must STOP THE WHO TAKEOVER OF OUR FREEDOM. Send your urgent faxes to demand members of Congress do everything in their power to protect American sovereignty.
Our staff on Capitol Hill meet with legislators and their staff to educate them on pressing topics. Many conservatives hadn't even heard of these issues at that point. Your faxes and petitions are critical for our in-person meetings. In the past two years, we have successfully blocked almost every freedom-killing, life-ending bill under the Biden administration.
Either one, acting alone, is less effective, but in combination with our in-person visits, your faxes are a powerful tool!
We want to keep you updated on the fast-paced events happening in Washington, D.C., and around the world, so you can make your voice heard on key issues like the one before us now.
We hope you will join us by giving your best gift to strengthen our voice against tyranny and support our mission by signing up for recurring monthly donations to help end these attacks on freedom.
Our freedom and our future depend on the actions we take now.
Mat Staver, Chairman
Liberty Counsel Action
P.S. Send faxes to members of Congress to do everything in their power to stop Biden from mandating global Vaccine Passports and abandoning American sovereignty to WHO!
P.P.S. Please consider partnering with us, and our Year-End Challenge Grant will DOUBLE the impact of your gift today.
Then forward our messages with your friends and sign our petition.


---

Sources:
Falk, Pamela. "Biden in Bali for G20 Summit: What to Know and What to Watch For." CBS News, November 14, 2022. Cbsnews.com/news/biden-g20-summit-bali-what-to-know-watch/.
"G20 Bali Leaders' Declaration." The White House, November 16, 2022. Whitehouse.gov/briefing-room/statements-releases/2022/11/16/g20-bali-leaders-declaration/.