In 2016, our national debt was 19.6 trillion or about 105% of gross domestic product (GDP), which is the total amount of goods and services sold in America. But by 2021, that debt had grown to 29.6 trillion, which is about 124% of our GDP. In December 2021, Congress raised the debt ceiling to 31.4 trillion, but the Biden administration blew past that in January and is 31.6 trillion in debt.

We're broke. Only one-quarter of the way into this fiscal year, our nation has spent all of our tax dollars AND all of the money from new debt we accrued for the year! To put this into perspective, if you spent 1 million dollars every day since Jesus was born, you still couldn't have spent even 1 trillion dollars … and now our nation is more than 31 trillion dollars in debt!

America has the largest external debt in the world. And raising the debt ceiling is akin to asking a bank to increase the credit limit on a credit card that is already in default.

And while we face a debt ceiling crisis, Joe Biden submitted a budget for 6.8 trillion dollars loaded with spending on "climate change" and abortion.

Members of Congress are wrestling now with whether to raise the debt ceiling. The Republican-led House is demanding spending cuts. A showdown is brewing. We cannot continue borrowing from foreign nations. Japan just beat out China as the largest foreign holder of U.S. debt. The insanity must end.

Send your urgent faxes to Congress to use the debt ceiling vote to roll back spending and save our nation! —Mat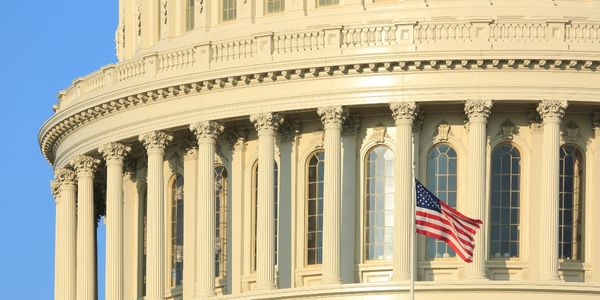 For every 100 dollars our nation makes in annual GDP (gross domestic product) we spend 133 dollars. This cannot continue. Some members of Congress are pushing to cap the spending at the 2019 level, or around 22.7 trillion dollars rather than the mushrooming 31.6 trillion dollars.

Our national debt is very close to a quarter of a million dollars for every American taxpayer. For a couple, that's about a half a million dollars in federal debt. This is overwhelming and unsustainable.

Exactly what is Congress spending our money on?

If we look back just 20 years ago, Planned Parenthood was getting half a million dollars per year to enable them to kill children. Even one dollar is too much to support this despicable evil, but half a million dollars?!?

Unfortunately, that amount pales in comparison to the present budget.

Now Planned Parenthood is receiving a massive annual federal budget that equals 1.7 million dollars EVERY DAY.

This is one of MANY insane and reckless ways our government is pushing to bankrupt our nation both morally and financially.

This budget is dripping with the blood of innocent children. This has got to end. Silence is not an option in the face of this horrible debt. Send your faxes today to members of Congress to lower, not raise, the debt ceiling, and cut reckless spending.
This battle over the debt limit is ratcheting up. Just last year, Democrats doubled the total number of IRS agents to 180,500 and gave them a slush fund of almost 80 billion dollars with essentially zero congressional oversight until 2031.

Congress should cut the new 80 billion for the IRS from its spending. We don't need an army of new IRS agents roaming around.

Joe Biden wants to weaponize the IRS, bankrupt our nation, skyrocket inflation, give more government control over every aspect of your life, and crush our freedom.

With 87,000 new agents, the IRS will be bigger than the Pentagon and the State Department. But right now, Congress has the authority to reverse this and stop pushing the self-destruct button. We cannot give up now.
In spite of the coffers being empty, Biden and most Democrats are still pushing for MORE of your tax dollars to be laundered through state Medicare payment to cover sterilization, puberty blockers, cross-sex hormones, and mutilating surgeries for children through Section 1557 of the Affordable Care Act.

This insanity must stop. When one of our staff showed the debt clock — rapidly growing by the second — and explained it to her 11-year-old, the child's eyes got big, and she hollered, "Just STOP!" Even a child knows this spending must stop.
Our out-of-control spending will destroy America. We cannot continue spending when there is no money in the bank. LC Action is fighting to bring fiscal responsibility to Capitol Hill. Our staff has held multiple discussions on the aspects of this effort to expose the dangers of raising the debt ceiling.

In addition, we are helping shape language to protect our military from vaccine mandates and rectify past punishment. Thanks to your support, we can (and must) continue to fight and win these battles.
STOP this bill and DOUBLE your gift through our Challenge Grant.
It is critical to act NOW! Together we can stop this race to socialism and instead restore our nation.
Onward,
Mat Staver, Chairman
Liberty Counsel Action




P.S. You can also add your name to our petition by selecting here.
---
Sources:

Agarwal, Amit. "Visualizing a Trillion: Just How Big That Number Is?" Digital Inspiration, March 9, 2009. Labnol.org/internet/visualize-numbers-how-big-is-trillion-dollars/7814/.

Amadeo, Kimberly. "US National Debt by Year." The Balance, January 18, 2023. Thebalancemoney.com/national-debt-by-year-compared-to-gdp-and-major-events-3306287.

"Budget of the U.S. Government Fiscal Year 2024." The White House. Accessed March 13, 2023. Whitehouse.gov/wp-content/uploads/2023/03/budget_fy2024.pdf.

"Fact Sheet: Planned Parenthood's 2020-2021 Annual Report." Charlotte Lozier Institute, January 14, 2023. Lozierinstitute.org/fact-sheet-planned-parenthoods-2020-2021-annual-report/#_ftnref17.

"Q&A: Everything You Should Know about the Debt Ceiling." Committee for a Responsible Federal Budget, January 18, 2023. Crfb.org/papers/qa-everything-you-should-know-about-debt-ceiling.

Rubin, Gabriel T. "What's in Biden's 2024 Budget Request." The Wall Street Journal, March 9, 2023. Wsj.com/articles/whats-in-bidens-2024-budget-request-b739e636.

U.S. National Debt Clock : Real Time. Accessed March 14, 2023. Usdebtclock.org/.