The main topic for the G20 Summit this week in India was just revealed. The stated goal is to chart the course for a global system to control our money. And Joe Biden will be there pushing this global scheme.

A Central Bank Digital Currency (CBDC) is on the agenda as a means to track and control what you own, what you can buy or sell, and to punish you for behaviors unrelated to your finances.

Today, the G20 countries' finance representatives will meet to discuss a growing "digital public infrastructure among other things in preparation for the leaders' summit" this weekend.

A Vaccine Passport is just the beginning. Can you imagine a "social" credit score or a financial passport? This meeting is laying the groundwork to track, trace, and control us through these global entities.

With Congress back from the August recess, we have the opportunity to stop this global push. Tell Congress to VOTE YES on HR 1122, HR 3712, and S 887 to protect Americans from the CBDC! —Mat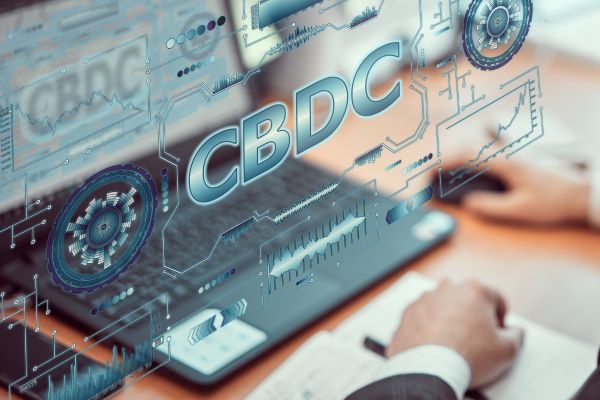 Nirmala Sitharaman is the finance minister in India. She confirmed that even before the G20 summit begins, there are serious discussions underway on global crypto regulations.

India is leading this next meeting as the chair, and the world's most powerful countries will be sitting at the table discussing crypto regulations. Joe Biden will be present.

Sitharaman warned that cryptocurrencies could NOT be regulated efficiently without the cooperation of all countries. But the real goal is to replace cryptocurrencies with a Central Bank Digital Currency under the control of a global government.

Under a CBDC, privacy will be nonexistent. Freedom will not exist.

The front page of Business Today boldly states that "India's G20 is a Catalyst for the New Global Order."
Both the Financial Stability Board (FSB) and the International Monetary Fund are circulating a "synthesis paper" to the G20 Conference of Finance Representatives member countries. This is "a sort of blueprint" on what crypto regulations will be discussed at the meeting this weekend and beyond.

This synthesis paper is confidential and hidden from the public until tomorrow (Sept. 7). That gives the public less than 48 hours to analyze and fight this proposed step toward a "New Global Order" before it is rolled out on the other side of the world.

But what is being reported is that this paper will "provide additional clarity regarding the comprehensive plan for nations interested in integrating virtual digital assets into their digital financial systems." In other words, how nations can implement a CBDC like China has.

The Bali Leaders' Declaration last year supported digital vaccine health records and digital currency. And Joe Biden was present to cheer on the global team.

This is just the camel's nose in the tent.

These attacks on freedom are serious. We still have time to derail this global takeover.
The FSB, an international body that monitors and makes recommendations about the global financial system, has been working on this plan to control your money for months. It issued a preliminary report on the global regulatory framework for crypto-asset operations in July. Now there are multiple organizations and dozens of the most powerful nations in the world, including America through Joe Biden, joining this global effort.

"The recommendations also highlight the need for data collection and reporting, cross-border cooperation, the establishment of a governance framework, and granting regulatory authority to relevant bodies," Business Today reported. "The primary focus of these recommendations is to mitigate potential risks related to financial stability."

These radical globalists are not concerned with privacy or freedom or independence. They are concerned with power and control.

Indian Prime Minister Narendra Modi urged nations to take action on regulations. Last month he emphasized the need for global regulation on cryptocurrencies.

"There is a challenge associated with cryptocurrencies," Prime Minister Modi said. "In this matter, a maximum integrated approach is needed. I think there is a need for preparing a global framework."

But what is really needed is a return to foundational principles of freedom.

We will have a short period to analyze the report from the G20 summit. But when you partner with us, we can work together on the front lines fighting on Capitol Hill, across America, and around the world. We will make sure members of Congress hear your concerns.
Mat Staver, Chairman
Liberty Counsel Action



TAKE ACTION
Right now, Congress is considering three bills to protect our income and our savings — HR 1122, HR 3712, and S 887. Please take a moment right now to fax Congress to VOTE YES on these bills to protect Americans from this global grab for our money!
And sign our petition.
Help defend freedom with your gift to our ministry today. The impact of your donation today will be DOUBLED by our Challenge Grant.
---
Sources:
Asoodani, Karishma. "FSB's Views on Crypto Asset Regulation Circulated Prior to G20 Summit." Business Today, September 4, 2023. Businesstoday.in/crypto/story/fsbs-views-on-crypto-asset-regulation-circulated-prior-to-g20-summit-396763-2023-09-04.

"Lots of Discussions on Important Topics under India's G20 Presidency: Rajeev Chandrasekhar." The Times of India, September 5, 2023. Timesofindia.indiatimes.com/videos/news/lots-of-of-discussions-on-important-topics-under-indias-g20-presidency-rajeev-chandrasekhar/videoshow/103391441.cms.

Pratap, Jai. "India's Finance Minister Says Discussions Underway on Global Framework to Regulate Crypto Ahead of G20 Summit." Cryptonews, September 5, 2023. Cryptonews.com/news/indias-finance-minister-says-discussions-underway-global-framework-regulate-crypto-ahead-of-g20-summit.htm.