A study just released alleges 1 billion people will die if the temperature rises 2 degrees Celsius above pre-industrial levels by 2100. This is up from the World Health Organization's (WHO) earlier claims that 7 million people die "prematurely" because of air pollution every year.

This propaganda piece alleges that "predominantly wealthier people will be linked to the deaths of approximately 1 billion people with lower incomes, a situation that bears a resemblance to cases of involuntary or negligent manslaughter." The gas and oil industry are at the top of the list.

The first-ever Africa Climate Summit is demanding that wealthier nations pay "reparations" for climate change — based on their energy consumption. No wonder these nations want to enthrone the WHO as the global authority to execute their agenda.

Read on to learn what the WHO and these other radical groups are planning. We must wake Congress now. American sovereignty is NOT FOR SALE. Tell Congress to STOP Joe Biden's attempt to give our freedom to a foreign dictator. — the WHO. —Mat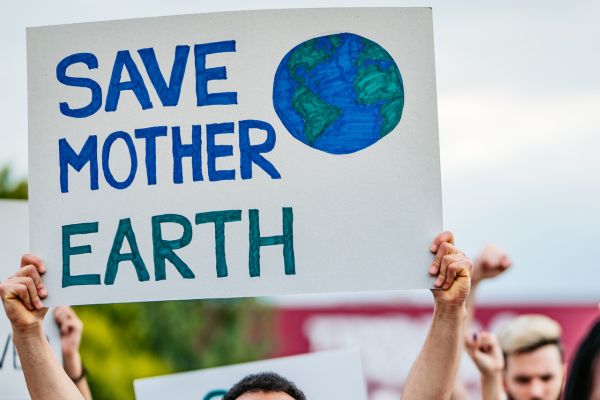 Kenya's President William Ruto demanded this week that economic success must have a price and that price should be a global carbon tax.

"Those who produce the garbage refuse to pay their bills," Ruto said at the Africa Climate Summit this week. "For a very long time, we have looked at this as a problem. ... The time has come for us to break out of the shackles of low ambition. We must now begin to aim higher and strive for more, and better outcomes."

Translated, Ruto wants America and other "rich" nations to pay. Already the U.S., via John Kerry, promised 30 million dollars to this climate group.

Ruto was not alone. Speech after speech at this summit called for reform to our global financial structures. They want to take from the "rich" and redistribute to "poor" nations under the guise of "climate change."

This is socialism. And — history lesson — socialism doesn't work! Rather than raising everyone, it makes everyone poorer and keeps them in bondage.

At this stage, only Congress can stop Joe Biden from signing America on to the WHO's 307 amendments to the International Health Regulations.
These African leaders are not just blaming their poverty on America through climate change, they also blame their countries' deaths on the U.S.

This new propaganda study was released to garner support for the WHO to be empowered to declare health emergencies for "climate change," abortion access, crime, race, LGBTQ, and all things viral and medical. And they want to bring America to its knees.

Speaking at the Africa Climate Summit, John Kerry credits his daughter for getting him involved in the climate effort. His daughter was appointed as the Director-General Special Envoy for Climate Change and Health at the WHO!

The WHO launched a climate department called the Alliance for Transformative Action on Climate and Health (ATACH) last year. It says, "The ATACH should promote a robust political discussion around climate change and health financing at global, regional, and country levels."

A major part of the responsibility of this branch of the WHO is to monitor and control "supply chains."

And the group that controls the supply chains will control the world.
In the "Proposed amendments" (February 6, 2023), the WHO states it should have control over all travel and shipping to:
Review "manifest and routing" information.

Inspect all goods.

Monitor the behavior of all staff during transition.

Determine if there is "contamination."

Provide rules regarding "baggage, cargo, containers, conveyances, goods, postal parcels" and human remains.

Demand isolation or quarantine for goods (without any time limit).

Implement the "seizure and destruction" of goods, even if contamination is only suspected and not confirmed.

Refuse departure or entry of goods.
No wonder the WHO's amendments will require nations like America to build WHO facilities at each port of entry.
Think about what would happen if the WHO decided to refuse entry of goods to one nation because that nation was using too much fossil fuel? Or the nation had too much religious freedom during a pandemic (like COVID), or was using unapproved medication, or restricted abortion access, or banned puberty blockers and mutilating surgeries for minors!

From a world trade standpoint, it is irrelevant who owns the "biological resources" if the WHO controls ALL travel and transport and can shut down any distribution of resources.

If the WHO is given this power, it will be the end of free markets and the initiation of global socialization. We must push back against WHO before it's too late.
This is a coordinated attack by Joe Biden and the WHO. Our team is working to counter these threats on Capitol Hill. We need your voices added to our physical presence. Partners like you undergird the mission of LC Action to make our vital work possible. Donate today to keep freedom alive!
Blessings,
Mat Staver, Chairman
Liberty Counsel Action


TAKE ACTION
Send your faxes demanding Congress do everything in its power to stop WHO. And sign the petition.
Support Liberty Counsel Action with a donation today.
---
Sources:
"Article-By-Article Compilation of Proposed Amendments to the International Health Regulations (2005) Submitted in Accordance with Decision WHA75(9) (2022)." World Health Organization. n.d. Apps.who.int/gb/wgihr/pdf_files/wgihr1/WGIHR_Compilation-en.pdf.

Biggs, Andy. "H.R. 79 - WHO Withdrawal Act." Congress, January 9, 2023. Congress.gov/bill/118th-congress/house-bill/79.

Kent, Simon. "Africa Climate Summit Hears Calls for Global Carbon Tax." Breitbart, September 5, 2023. Breitbart.com/africa/2023/09/05/africa-climate-summit-hears-calls-for-carbon-tax-on-worlds-richest-nations/.

Pearce, Joshua M., and Richard Parncutt. 2023. "Quantifying Global Greenhouse Gas Emissions in Human Deaths to Guide Energy Policy" Energies 16, no. 16: 6074. https://doi.org/10.3390/en16166074.

Renaud, Jeff, and University of Western Ontario. "Climate-Changing Human Activity Could Lead to 1 Billion Deaths over the next Century, according to New Study." Phys.org, August 28, 2023. Phys.org/news/2023-08-climate-changing-human-billion-deaths-century.html.

"WHO: Air Pollution Causes 7 Million Premature Deaths a Year." World Health Organization, September 22, 2021. Dw.com/en/who-air-pollution-causes-7-million-premature-deaths-a-year/a-59264198.