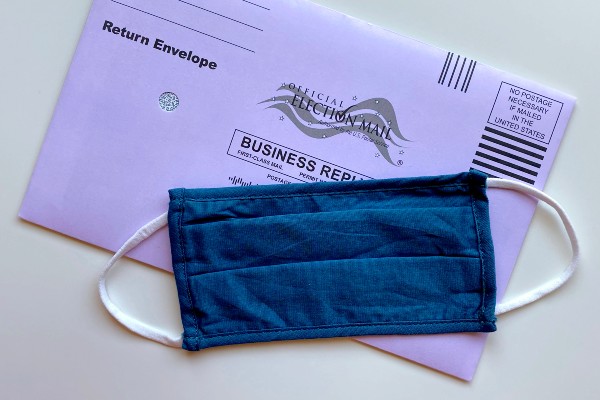 A County Health Director governing the second largest school district in America apparently already knows when COVID-19 will be over...


While many other businesses in this community are evaluating re-opening phases in three weeks, Barbara Ferrer, the Los Angeles County Health Director was caught on tape making the following statement about schools in her area:


"We don't realistically anticipate that we would be moving to either tier 2 or to reopening K-12 schools at least until after the election, in early November," Ferrer told education professionals and school nurses in a conference call. "When we just look at the timing of everything, it seems to us a more realistic approach to this would be to think that we're going to be where we are now

until we are done with the election

." (emphasis added)


This was reported by California radio correspondent Steve Gregory who aired it on Southern California's John and Ken Show.


Under Ferrer's direction, there are 633,000 students that have been "taking online classes and using remote education since the stoppage of in-person schooling," reported the show.


Now, suddenly more than 50 days out with a virus that has an average two-week cycle, Ferrer has the confidence to claim that after the election she will be much less worried about reopening the schools in her area. In a very revealing moment, her words exposed that her focus is not on Halloween, the much more popular holiday, nor the 1st of November. Her words reveal that her focus is on the election date itself and its relation to COVID. Jeffrey Cawood at the Daily Wire, wrote:


"Gregory said he contacted the health department directly after obtaining the audio to inquire when Ferrer said schools would reopen.



'I got a response back that is basically this word salad,' Gregory said. 'It's one big long paragraph of a word salad. It's not even worth reading because all that it said was, "we're reassessing all of the time, and as soon as we do the in-person learning with the high risk, high needs students, the special needs, we will reassess for everyone else." That was their official answer as to when the schools were going to reopen.'



'So the health department official statement does not jive with the health director," Gregory continued. "What caught my attention on this was that she said election not just once, but she says it twice...



Gregory: "She seems to have gone out of the mainstream in the totality of what's going on in the county, and she's starting to get very specific on political agendas. It took her a week or so to admit that protesters were part of the spread of the virus. We had to pressure her to say that."



John Kobylt, co-host: "She's definitely got a real left bent. She spends a lot of time huffing and puffing over the minority breakouts on the cases. I mean every day she goes through a laundry list and bemoans it, way way out of proportion."



Gregory: "So this is why now, every time she says something like this, we have to dissect it to make sure it's legit, or whatever."


Think it's just a coincidence that schools in Los Angeles County will probably open up right after the election? This is not the only location with that same date in their head. All the way across the nation, Morgan Phillips at Fox News reported on the reopen schedule in another Democrat-run city that is set for just three days after the Presidential Election:


"All Washington, D.C. public schools will begin the year virtually on Aug. 31 until at least [Friday] Nov. 6, Mayor Muriel Bowser's office announced Thursday...." (emphasis added)


With a total population of more than 700,000, "D.C. reported 58 new coronavirus cases Thursday and no new deaths," Fox News reported.


Liberty Counsel Action works to empower patriots across America to defend our nation's future. You can receive our free email alerts with breaking news and legal analysis of what is really happening on Capitol Hill and around the world. Sign up now.


LCA advances religious liberty, the sanctity of human life, and the family through law and policy education, training and advocacy. We depend on your support to make a difference at the federal, state and local levels.