Today marks the 19th anniversary of the September 11th terrorist attacks on the United States. Many people selflessly answered the call to help others that day. Here are a few of the unsung heroes of 9/11...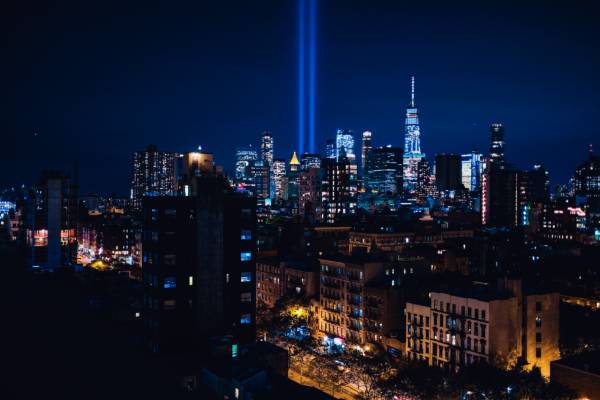 A group of survivors on the 78th floor of the South Tower were unsure how to escape. A man with a red bandana on his face, Welles Crowther, came and showed ten people how they could get out. The 24-year-old equities trader guided the survivors safely down to the 61st floor and immediately turned back to help firemen reach more survivors. He would die running back up those 17 floors trying to get help to others.
Benjamin Clark, a chef for the Fiduciary Trust Company, was also in the South Tower on the 96th floor. Clark was credited by a company official with aiding hundreds in getting to safety from Fiduciary offices. Others last saw him stop to help a woman in a wheelchair who could not get out on her own.
According to an interview with Clark's mother from The Daily Beast, he was always willing to help others. She spoke of him helping neighbors as a child, no matter how big or small the task was. She also spoke of his time as a marine and how that experience attributed to his actions on 9/11. Clark lost his life that tragic day, putting others before himself.
On the 44th floor of the tower was Rick Rescorla, a corporate security VP for Morgan Stanley Dean Witter & Co. He had survived the bombing of the World Trade Center in 1993. His orders were to keep everyone in the building, but in a split second decision, Rescorla began evacuating his co-workers. Because of his quick thinking, he was able to save thousands of his fellow employees who got out before the second plane hit.
"Morgan Stanley lost only six of its 2,700 employees in the south tower on Sept. 11, an isolated miracle amid the carnage. And company officials say Rescorla deserves most of the credit. He drew up the evacuation plan. He hustled his colleagues to safety. And then he apparently went back into the inferno to search for stragglers. He was the last man out of the south tower after the World Trade Center bombing in 1993, and no one seems to doubt that he would've been again last month if the skyscraper hadn't collapsed on him first. One of the company's secretaries actually snapped a photo of Rescorla with his megaphone that day, a 62-year-old mountain of a man coolly sacrificing his life for others."
There are pictures from The Washington Post of Rescorla directing people with a bullhorn. There were also reports that Rescorla sang hymns which calmed nerves. He was known for doing this while serving as a platoon leader during the Vietnam War.
Remebering the fallen: September 11, 2001
---

Liberty Counsel Action works to empower patriots across America to defend our nation's future. You can receive our free email alerts with breaking news and legal analysis of what is really happening on Capitol Hill and around the world. Sign up now.

LCA advances religious liberty, the sanctity of human life, and the family through law and policy education, training and advocacy. We depend on your support to make a difference at the federal, state and local levels.
Click here to GIVE NOW.