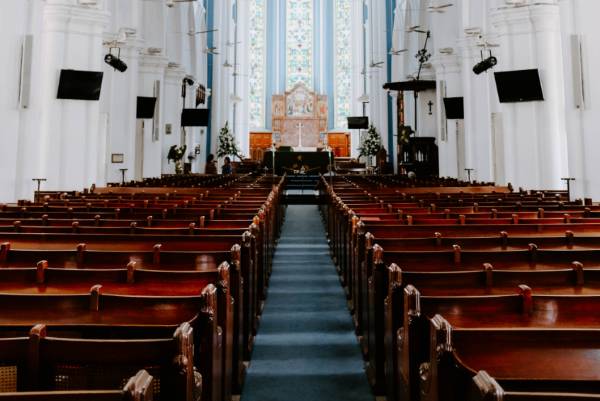 The words "new normal" have been propagated lately (especially by the media) to describe the disruptions to American life as attributed to COVID-19. This is alarming.
While the presence of COVID-19 is a reality which requires careful consideration as how to combat the spread and ensure the healthiest outcomes possible, a virus is innately powerless to create the changes that we have seen in our society. People, however, have the power to effect positive and negative change in response to any given situation. That is where accountability lies for what we are seeing happen around us. More specifically, elected officials need to be challenged concerning the unconstitutional actions they have taken in the name of containing the virus.
While much could be said about the social and economic impacts that recent decisions by federal and state governments have had on people, as Christians, let us focus here on perhaps the most egregious offense—the closing of our churches. Do we want this to be our "new normal?"
The forbidding of religious assembly, even for the sake of preventing the spread of the COVID-19 virus, is simply unconstitutional. Amendment I to the United States Constitution states:
Congress shall make no law respecting an establishment of religion, or prohibiting the free exercise thereof; or abridging the freedom of speech, or of the press; or the right of the people peaceably to assemble, and to petition the Government for a redress of grievances.
The United States Constitution restricts governmental authorities from violating the liberty of its citizens. Our government derives its power from the governed. When elected officials infringe upon the rights of citizens, it is the responsibility of the people to take notice and act.
We have a responsibility as American citizens to keep a watchful eye on governmental authorities, but also as Christians we are held accountable by God for how we live (Romans 14:12). Our first duty is to honor God, seeking His kingdom and righteousness (Matthew 6:33). This includes the Bible's mandate for believers to meet together so that we may encourage and edify one another (Hebrews 10:24-25).
If you do not want to live in a future where government officials continue to go unchecked and unchallenged, impeding your civil liberties and forbidding you to go to church, then act now!
One immediate way to do so is to participate in Reopen Church Sunday, on May 3, 2020. This call to action by Liberty Counsel is an encouragement for churches to re-open their doors and believers to exercise their religious freedoms once again. Churches should adhere to appropriate social distancing guidelines and sanitation measures. They could also consider opening with modifications in place such as reduced seating, parking lot services, and online services.
We cannot allow ourselves to be coaxed into blind obedience to unconstitutional executive orders that keep us from worshipping our God corporately because of fear. Fear of man is a trap and should not supersede fear of the Lord (Proverbs 29:25). We need to fight for our religious freedoms and stand by our convictions.
That leaves the question: What will you allow your "new normal" to be?
---

Liberty Counsel Action works to empower patriots across America to defend our nation's future. You can receive our free email alerts with breaking news and legal analysis of what is really happening on Capitol Hill and around the world. Sign up now.

LCA advances religious liberty, the sanctity of human life, and the family through law and policy education, training and advocacy. We depend on your support to make a difference at the federal, state and local levels.
Click here to GIVE NOW.