The Liberty Counsel Action Difference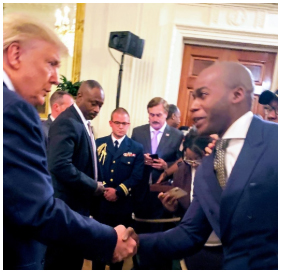 Liberty Counsel Action empowers patriots all across our nation with tools to restore America through education and activism. We have full-time legal staff on the front line of Capitol Hill who see a parade of radical bills, legislators, lobbyists, and money all focusing on destroying the America we love.


Our team is called to a vision that is bigger than what we can accomplish alone. So, we are giving you the opportunity to join us to lead America back to our founding values.


Together, like Gideon's army, we can push back the onslaught of people, money and corruption who are intent on turning America into a bloodthirsty, baby-hating, family-hating, God-hating, socialist dystopia.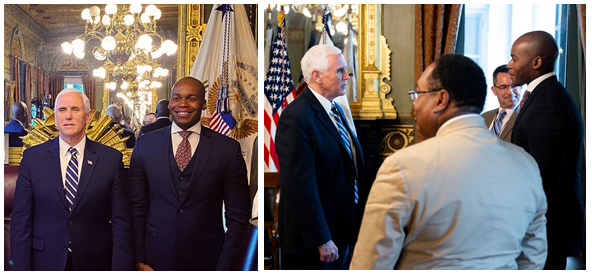 Our promise to you:
We are EXACTLY who we claim to be.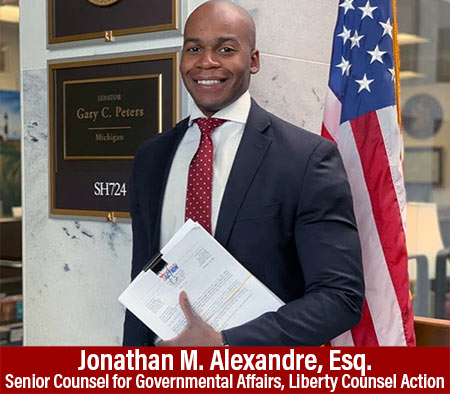 Jonathan Alexandre, Esq., Senior Counsel for Governmental Affairs stands for solid conservative principles that he can powerfully articulate and promote. He has developed key relationships throughout our nation's Capital. And he is working to build those relationships to advocate for life, liberty, and the family.


We work to make sure your voice is heard in Washington!


Our expertise, knowledge and relationships have proven invaluable and vital in this time. We have seen the accomplishments of YOUR signatures and faxes combined with OUR full time, Washington D.C.-based staff, firsthand.
Why send faxes and petitions?
We know firsthand that faxing and petitioning can make a huge difference.


The involvement of patriots like you using our program from every corner in America is getting noticed. The message is being heard. We've seen legislators sitting on the fence change their votes, nominees moved or blocked, bureaucrats change their minds, and staff members beg us to stop, or those who call us letting us know "We're with you on this."

Here's proof that we're getting noticed. Multichannel.com wrote an article showing that faxing makes a difference and they named us, Liberty Counsel Action. You are making a difference!

Click here

to see the online article, or

here for a PDF

to review.
FAXES:
Faxing is used in numerous ways. Sometimes, it's the fastest way to make sure that our leaders get the message and information that they need in time for a vote. Often in D.C. legislation or policy can change in the blink of an eye so that a fax is the only way to get a message on the right desk at the right time—before it's too late. Because there is a cost to sending faxes it helps our leaders know that certain issues are extremely important and it sets your voice apart.


When our legal staff walks into an office that has been flooded with your faxes, we know that together we have gotten their attention. On these issues we can offer professional legal advice to these leaders in order to support their taking the action you are requesting. We give a personal touch by following up with your fax so we can answer any questions, explain the source of our concerns, and use personal stories to illustrate the importance of the issues.
Also, don't be alarmed, we are not killing trees. In this technology day and age, not everyone is using actual fax machines any longer. Faxing has also become virtual where the fax is received electronically in many offices.


While some might think faxing is antiquated, be assured we know it works. Our government is required to accept our faxes and they are not allowed to "turn-off" their machine or phone numbers. In addition, every time you send a fax it becomes part of a legal record and cannot be deleted or thrown away.


PETITIONS:
Petitions are used in conjunction with faxing in order to show how great the outcry is across our nation. It is very important to LCA to provide every American the chance to be involved in shaping the future of our nation, regardless of their personal finances. Even though it costs our organization more to send a finished petition than a fax, thanks to generous patriots and financial partners we are able to offer this service free to those who need it. In addition, the costs to send a petition are mostly one-time costs and so we encourage every person to sign in order to get the most influence for each dollar.


We start petitions for various reasons. One reason is because some individuals don't want to send faxes or can't. Also, we know that every individual needs an opportunity to voice their concerns. Everyone is part of the whole package that is hand delivered to those key leaders who need to be informed.
Unlike many organizations that hire couriers to dump stacks of signed pages on a congressman's desk, or even claim to hand deliver your petition, (which usually means one intern hands them to another intern who dumps them immediately in the trash can).


When Liberty Counsel Action delivers your petition, we send our top staff to not only deliver, but personally discuss the petition with congressmen and influential congressional and White House staff. We schedule meetings to discuss the documents and policies that are being hand delivered so that there is an understanding regarding the position that Liberty Counsel Action and our partners are advocating.
---

Liberty Counsel Action works to empower patriots across America to defend our nation's future. You can receive our free email alerts with breaking news and legal analysis of what is really happening on Capitol Hill and around the world. Sign up now.

LCA advances religious liberty, the sanctity of human life, and the family through law and policy education, training and advocacy. We depend on your support to make a difference at the federal, state and local levels.
Click here to GIVE NOW.

Liberty Counsel Action scam