A beautiful young bride-to-be was thrilled to be picking out a wedding dress. She had saved herself for her husband for their special day, but unbeknownst to her, the wedding store was paying a biological male dressed as a woman to help ladies try on their dresses. The majority of modern wedding dresses are designed to be worn without even a bra...
Because he was wearing a COVID mask and a dress, this man repeatedly undressed this bride-to-be, touching different parts of her body while helping her in and out of wedding dresses.
When she realized the person under the mask and dress was a man -- she was horrified! She never wanted to be undressed before any man except her future husband.
When she complained, the wedding store owner said the store was required by law to treat the man as if he were a woman. My legal team is pursuing all available options against the store, but this story and many more will play out again and again if the misnamed "Equality Act" passes.
Even if you already responded, we need to keep the pressure on our senators. The battle in the Senate will be fierce, but we can win. -Mat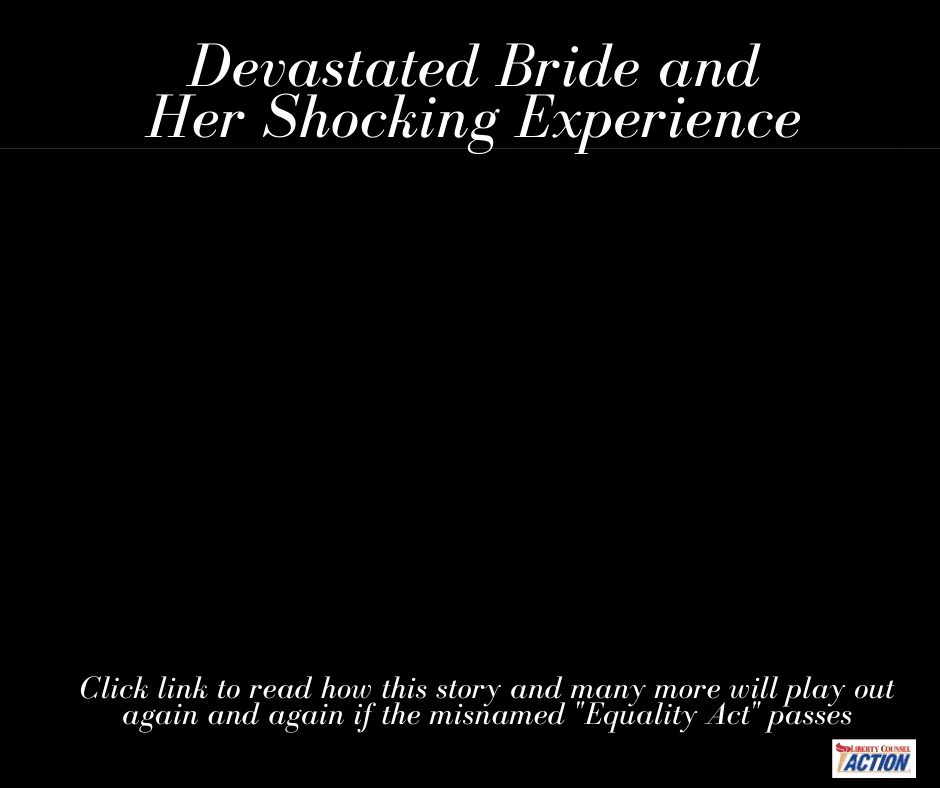 If the "Equality Act" passes the Senate, there will be very little we can do to stop the abuse--like this traumatized bride-to-be. Your daughter or granddaughter will be next. A crossdressing preschool teacher may help toddlers use the bathroom--or worse, a pedophile will have legal rights.
+ + The threat of this bill got much closer over the weekend.
The House sent the budget to the Senate on Saturday. This means any time the Senate is in session, a single senator can ask to include the "Equality Act" in the budget vote. This circumvents the 60-vote filibuster to allow a simple majority.
Thankfully, this can be blocked. If one senator objects to this maneuver, then a full vote with the filibuster rule is required. We are working with senators to make sure the floor is covered every minute to object if needed.
Rush your urgent fax to the Senate to stop the "Equality Act."

California just gave another example of how far this nonsense will go. California legislators introduced a bill to levy a $1,000 fine against any retail chain that separates clothing, toys or any product for boys and girls into gender-specific sections. Imagine having to shop for a girl's dress!
This California insanity will sweep the country under the "Equality Act."
The "Equality Act" will do more--much more--than affect your shopping habits.
I know it's hard to believe, but the "Q" in LGBTQ comprises about 550 sexually deviate paraphilias--including pedophilia.
The activist group LGBTQ Nation, states: "A queer definition...goes far beyond mere sexual orientation or gender identity."
The "Q in LGBTQ can also signify other sexual orientations and gender identities not covered by the acronym's preceding letters. If you're gender-neutral, non-binary, agender, genderfluid, pansexual, asexual, solosexual or something else not covered by LGBT, the 'Q' has got you covered!"
And if this bill passes, you will not escape its reach!
The "Equality Act" will also make abortion a federal right, and EVERY STATE LAW will be preempted--including parental notification and consent, informed consent and doctor regulations.
If we do not stand up right now, the "Equality Act" will bring persecution to churches and schools. It will silence truth and common sense!
WE MUST STOP THIS BILL! Send your fax to the Senate to stop the "Equality Act" from endangering people in our communities.

While there is nothing that can reverse the abuse of this young bride-to-be, you can make sure what happened to her does not spread nationally. We can stop this abuse from spreading if this bill is blocked.
I cannot emphasize enough how important it is to stop the "Equality Act."
From changing the minds of legislators on Capitol Hill to defending brides-to-be, my team can provide this hope and justice because of you and other faithful donors who give each month to allow us to fight--and win--these cultural battles all across our nation.
I appreciate your prayers and your support. Join our extended Challenge Grant to DOUBLE the impact of your gift right now. Support Liberty Counsel Action today.

Onward,
Mat Staver, Chairman
Liberty Counsel Action
P.S. Our Challenge Grant will effectively DOUBLE the impact of your donations! Select here.
Send a fax directly to members of Congress and urge them to block this horrific bill and its devastating fallout. And then sign our petition against this outrageous bill. God's blessings on you and your family.
Sources:
H.R. 5. Equality Act of 2021. (2021, Feb). 117th Congress (2021-2022 Session).
Baker, G. (2021, Feb 27). California Bill Would Force Retail Stores to Use "Gender Neutral" Signage. Todd Starnes.