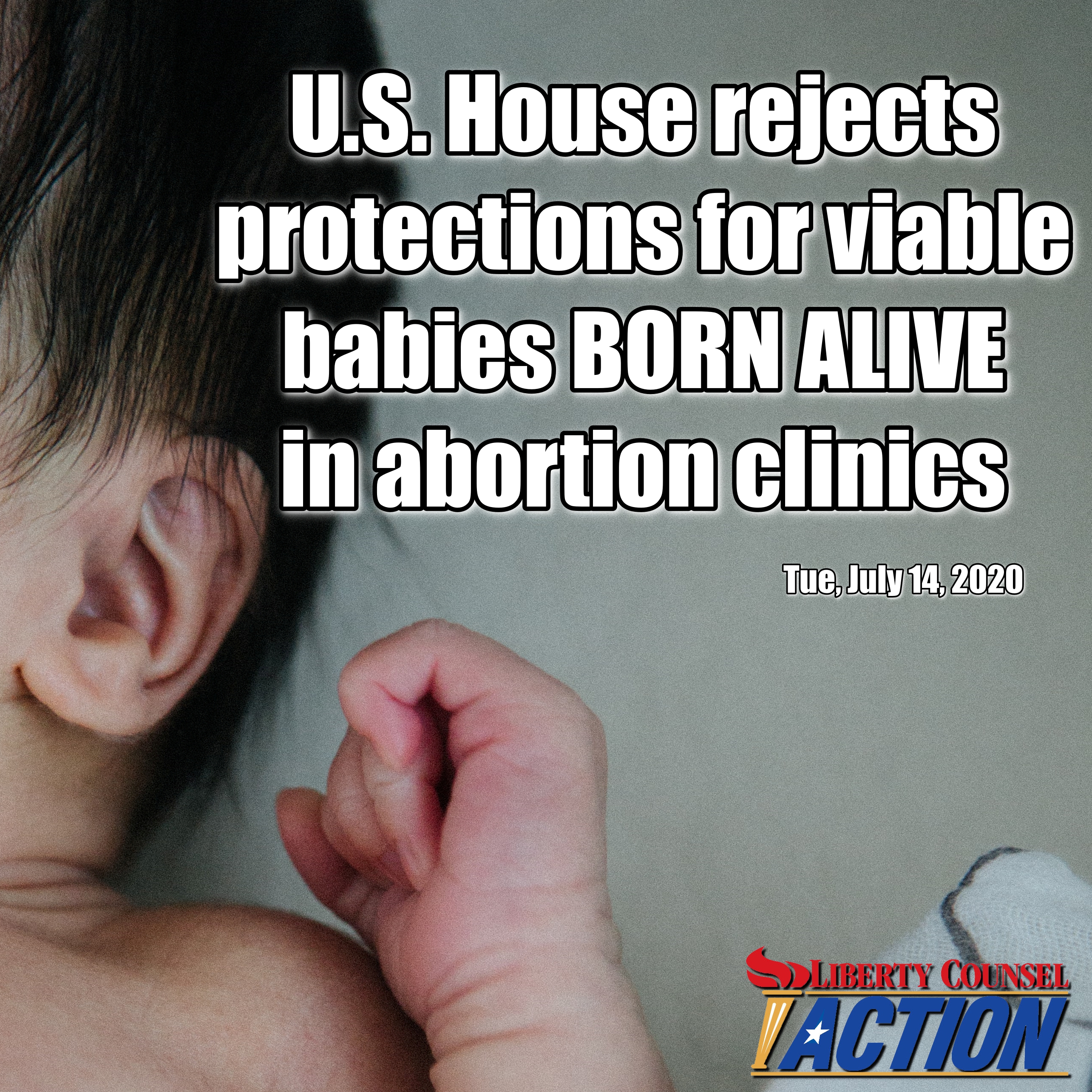 Liberty Counsel has been on the front lines defending Sandra Merritt for courageously exposing Planned Parenthood and its affiliates for intentionally birthing children alive and then brutally harvesting their organs, even after the point of viability.
Today, Republicans were able to bring up an amendment to protect these children born alive in abortion clinics. However, Democrats ultimately struck down this amendment effort in the U.S. House. The Harris Amendment was defeated by a vote of 24 to 28. In addition to the Republican members of the Committee, the amendment was supported by Rep. Sanford Bishop (D-GA) and Rep. Henry Cuellar (D-TX).
During committee consideration, Rep. Andy Harris (R-MD) offered an amendment preventing TRICARE funding to entities that fail to exercise the proper degree of care in the case of a child who survives an abortion or attempted abortion.
The amendment would have required all health care practitioners present to give the same level of care to a child born alive as would be given to any other child born alive at the same gestational age. It would also require the practitioner to ensure that the child is immediately transported to a hospital.
The amendment also would have required the funding recipient to certify that it has sufficient resources to comply with this requirement and that it has reporting requirements in place for any violation.
The following Members spoke in support of the Harris Amendment:
Ranking Member Kay Granger (R-TX) said, "If a baby is born alive after an abortion, we must make sure that everything possible is done to preserve the life of the child."
Rep. Ken Calvert (R-CA) said, "We must have the humanity to protect living, breathing infants outside of the womb."
Rep. Jaime Herrera Beutler (R-WA) said, "There is evidence that babies born alive are being killed or neglected after the fact. … If a baby is born alive after an abortion, they deserve the same treatment under the law." She highlighted several accounts supporting her statement that "this does happen." She went on to respond to another House Member's statements supporting abortion: "When a baby has left a mother's womb, it is not part of her body. … This baby is already here. …You're not throwing your belief about being pro-choice out the window by saying, 'once a baby is here, we're going to protect it.'" And then she highlighted additional stories of abortion survivors.
Instead, the House Committee on Appropriations passed the FY2021 Defense Appropriations bill by a vote of 30 to 22 without the life-saving amendment.
---

Liberty Counsel Action works to empower patriots across America to defend our nation's future. You can receive our free email alerts with breaking news and legal analysis of what is really happening on Capitol Hill and around the world. Sign up now.

LCA advances religious liberty, the sanctity of human life, and the family through law and policy education, training and advocacy. We depend on your support to make a difference at the federal, state and local levels.
Click here to GIVE NOW.